Tuesday, November 20, 2007
/lk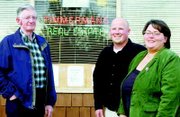 If you ask why Tom and Melissa Dekker are now at the helm of Timmermans Real Estate they'll simply say three words: "reputation and relationships."
The Dekkers now own the brokerage, since Hank Timmermans handed over the reigns to Tom and stepped down as designated broker.
Said Timmermans, "I can come and go more as I please. At my age, it's a little bit more relaxing, taking away some of the pressure and things of that sort."
He added with a laugh, "I had (the responsibility) for about 42 and a half years. It was time to pass it on to a younger generation."
Tom explained, "What attracted us to Timmermans was the reputation that Hank and the brokerage had.
"It's the oldest, continuous real estate office in Sunnyside."
The Dekkers own the brokerage and lease the building and business from Timmermans, although the Dekkers will purchase the business and building over the course of the next several months.
Tom previously worked for Prudential as a Realtor and Property Manager; Melissa has been in real estate for about two years.
That's one new service the Dekkers have brought to Timmermans: commercial and residential property management.
"We handle the headaches and heartaches of rental properties," Melissa explained, which includes tenant placement, contract writing, compiling tax information, and overseeing necessary repairs and maintenance.
And, added Tom, for those who don't want a property management team, Timmermans can simply help with tenant placement.
The Dekkers said there's definitely more responsibility now, but, says Tom, "It's really exciting for us."
The Dekkers, who are parents to young daughter Bella, said that it's important to them to consider the whole family when helping someone buy or sell a home.
"It's important to cater to the whole family," said Tom.
He added it's important to keep his agents happy as well, by offering help when needed, like dropping off documents for them when they're busy with clients.
"If they're not happy here, it's going to impact their job," he said.
Tom said he prides himself on providing a "boutique (style) real estate experience that allows us to cater to the individual needs of the buyer or seller."
The end goal, adds Melissa, "Is we want people to be happy...we want people to say (of us) 'These people will treat you right.'
"We can advertise all we want, which is great. But word of mouth is so much more (important)."
She added, "Home ownership is just something that we really believe in and that we want other people to realize in their lives."
They're also willing to help people mulling the sale of a home by creating a comparative market analysis.
The Dekkers said they want to form relationships with clients, much like Timmermans has, that bring the clients back the next time they want to buy or sell.
Timmermans said, "It's been fantastic all these years, the loyalty and integrity of (former clients)."
Tom said that he and his wife are passionate about the rights of property owners and small business owners, so they serve on the Realtors Political Action Committee.
Their service doesn't stop there. Melissa will be the 2008 President of the Lower Valley Multiple Listing Service. Tom will be president in 2009.
The Dekkers will celebrate their management at Timmermans Real Estate with an open house on Dec. 15, from 11 a.m. to 2 p.m.