Wednesday, May 23, 2007
/lk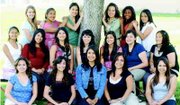 Wayne Randolph Rawson, 83, of Klamath Falls, Ore. passed away Friday, May 18, 2007.
He was born Aug. 14, 1923, Texas County, Okla.
Wayne served in the Navy during WWII on an aircraft carrier in the Atlantic. After his discharge, he married his first wife, Betty. They moved to Medford, Ore. He then moved to Klamath Falls, where he taught civil engineering for 35 years at Oregon Institute of Technology. He was the architect for several bridges erected in Oregon.
He enjoyed golf, bridge and playing a good game of snooker.
He is greatly loved by is family and will be missed.
Wayne is survived by one sister, Wanda Giacomini and husband, Lee, of Medford; one brother, Fred Rawson and wife, Winifred, of Claremore, Okla.; a sister-in-law, Jessie of Tulia, Texas; his second wife, Iona Rawson of Bickleton; one daughter, Debra Berk and husband, Ronald, of Papua New Guinea; three sons, Stanley Rawson and wife, Christine of Seattle, Duane Rawson, and wife, Christina, of Redding, Calif., and Michael Rawson of Klamath Falls; 17 grandchildren and 24 great-grandchildren; and numerous nieces and nephews. He is also survived by one stepson, Ronald Berk and wife, Debra, of Papua New Guinea; two stepdaughters, Tami Whitmore and husband, Jack, of Bickleton and Brenda Tucker and husband, Charles of Selah; 11 stepgrandchildren and spouses; and three stepgreat-grandchildren.
There will be a memorial service in August 2007, at Klamath Falls, Ore., upon the return of his daughter, Debra and her husband, and two of their children from Papua New Guinea. O'Hair and Riggs Funeral Home in Klamath Falls, Ore., is in charge of arrangements.
More like this story