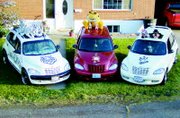 GRANDVIEW - The YakiVegas PT Cruiser Club of Yakima and Eli and Kathy's Family Restaurant of Grandview will be hosting a "PT Cruiser Meet and Greet" this coming Sunday, May 20.
The purpose of the event is to showcase various customization approaches of PT Cruiser owners, according to Garfield car owner Carl Raymond.
He said customers of Eli and Kathy's can vote on several categories such as the best car, while at the event.
Also, Eli and Kathy's may have either a drawing or a special for the event. Raymond said it had not yet been decided upon.
"The club wants to show others what can be done with their cars," he stated.
YakiVegas PT Cruiser Club participates in many events throughout the year. Recently, it raised $1,400 for the Children's Wishes and Dreams Foundation at a car show winery tour in Zillah.
"We participate in a lot of fundraisers to benefit Children's Wishes and Dreams," said Raymond.
Some of the events the club participates in include parades.
There are three PT Cruisers from Grandview that will be featured at Sunday's event. They are the White Tiger car, the Garfield car owned by Raymond and his wife Lois, and the Taz car.
The club meets the first Wednesday of every month at Round Table Pizza off 40th Avenue in Yakima at 6 p.m.
Other PT Cruiser enthusiasts are encouraged to join. No dues are necessary.
Raymond added that the Grandview car owners would like to locate more Lower Valley owners and perhaps form a Lower Valley chapter of YakiVegas PT Cruiser club or a club of their own to cut down on travel.
Sunday's event will be from 2 to 5 p.m. at Eli and Kathy's on Wine Country Road in Grandview.
For more information, contact Raymond at 882-2698.