Thursday, March 8, 2007
/lk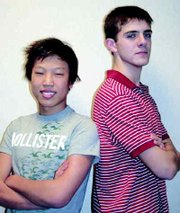 Sunnyside High School students Matt Barr and Anthony Kim have been selected as Washington Aerospace Scholars through Seattle's Museum of Flight.
The two are among several students in different legislative districts to receive the honor.
"I think it's a fantastic opportunity to be able to try your math, science and engineering skills online to solve problems," said science advisor Joyce Stark.
As scholars, Barr and Kim will complete web-based activities, including space exploration studies, and will participate in interactive tutorials and have ongoing contact with experts and professionals.
Should they make it to the next level, they'll attend a six-day summer experience at the Museum of Flight, guided by mentors and classroom teachers as they participate in a mission to Mars simulation.
"We're both hoping to get into the second internship (during the summer)," said Kim.
Barr and Kim said they were both motivated by their parents to apply, as well as the fact that they're the inaugural class for Washington state. Stark said this is the first time this state has participated in the program.
She added that astronaut and former Sunnyside resident Bonnie Dunbar, who is now the director of the flight museum, implemented the program to stimulate more interest in math, science and engineering. Other states participate in the program and the curriculum was created by NASA.
The online activities have already begun. "It's a lot of work," said Kim. Barr added, "But we're able to manage."
More like this story