Tuesday, June 26, 2007
/lk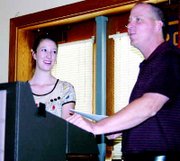 Recently graduated from Sunnyside Christian High School, one would think Caitlin Aleman would be headed to college this fall.
Instead, the teen has decided to wait another year before enrolling in college classes. She will be traveling to South Africa and Kenya during the coming year.
In October, Aleman and her sister, Jessica, will be traveling to South Africa to assist an orphanage in Malalene, a village outside Kruger National Park, with children who have been orphaned by AIDS.
"I will be there with Doctors for Life and we will be helping children whose parents have died from AIDS. Most of the children are infected with HIV," Aleman told Sunnyside's Noon Rotary Club members Monday.
The work the Aleman sisters will perform will be in providing outreach to prostitutes, drug addicts, homeless and the children.
The outreach program is called Life Place and the program's mission is to help provide assistance to those they serve. According to Aleman, some assistance given will be providing clothing, shoes, baby supplies, vitamins, medication, school supplies and some financial aid.
After Christmas, the Aleman sisters will be traveling from South Africa to Nairobi, Kenya to assist another orphanage.
Aleman told the Noon Rotarians an Australian couple sold their home and began the orphanage in March 2007 after being inspired by a Bible verse. The verse is James 1:27, which says "Orphans are our collective responsibility."
"The couple will raise the children until they are 18," said Aleman.
"Most of the children were abandoned and the orphanage is primarily reliant on volunteers," she added.
Currently, the Kenyan orphanage has 28 children under the age of four. The couple plans to raise a total of 40 children at the orphanage.
To prepare for the trip, Aleman will be taking an EMT class to obtain some medical training and her father is helping her learn some plumbing techniques to help with some of the needs of the orphanage.
Each trip will be for 89 days due to visa restrictions and Aleman said she believes the opportunity for "growing up" will be provided through her experiences.
She said she has taken trips to assist with Hurricane Katrina victims in New Orleans and traveled to the Dominican Republic with her parents, providing mission work. So, she feels the background prepared her for the coming adventure.
Aleman also told the Rotarians that any donations for the trip are welcome. During her time in Africa, her parents, Pete and Kim, will be accepting donations of food, clothing, medicine, vitamins and other necessities she might need to help those she is with. Her father will collect the donations and ship them after she sends emails regarding the needs.
She said she is also welcoming monetary donations for the trip because she will need to pay for her own food, rent and travel.
When asked what inspired her to take this trip, Aleman said her sister learned about it from a friend and insisted they would be going. "I am eager to go and help any way I can," she stated.