Tuesday, June 12, 2007
/lk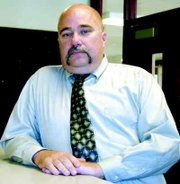 GRANDVIEW - Principal Arcella Hall is leaving Grandview High School for the Office of the Superintendent of Public Instruction. That lead to the search for a new principal, however the school district didn't have to look far since the candidate that best fit the school was already at the high school.
At Monday's school board meeting, Superintendent Kevin Chase recommended Vice Principal Mike Closner be hired as the new principal after having gone through a lengthy application and interview process.
The board, consisting of Karen Veloz, Paul Jepson and Alfonso Contreras, unanimously accepted Chase's recommendation.
Closner grew up spending his summers visiting his grandparents in Grandview. He developed close ties with the community and developed a desire to return to Grandview after receiving his education.
He received two Bachelor's degrees at Central Washington University. The first was in economics and the second was in business education in 1996.
Closner spent his fall practicum at Grandview High School in 1995 and began his teaching career as a student teacher at the high school in the spring of 1996. An opening for the marketing teacher position was available in the fall of 1996, and he was accepted for the position.
"I have always had a passion for leadership. As a teacher, the different administrators allowed me opportunities to grow," he stated.
Closner continued growing by receiving his Master's degree from Heritage University and his administrative credentials in 2004.
The administrative credentials allowed him to become the principal for Compass High School in the fall of 2004.
"I spent a year with Compass's dedicated staff and students when I was asked to return to Grandview High School," Closner said.
He returned to the high school as the vice-principal, where he has served for the past two years.
"I can't envision being anywhere else than Grandview. I have built a lot of great relationships," he said. "I spent eight years in the classroom, a year at Compass and two years here."
The new administrative team for the 2007-08 school year has already begun its transition and Assistant Principal Ken Murray will continue working with Closner off and on throughout the month of June.
"We return full-time in August," said Closner.
During the summer months, several staff members, approximately 50 percent, including Closner, will be attending different educational seminars, and he said, "It is very exciting to have such dedication from the staff members in expanding AVID, gaining educational tools and providing opportunities for the students."
Closner also noted that the students had some say in his becoming the new principal for the school. "There are students selected to represent them on the interview panel," he commented. So, he feels the student body is behind him in his new role.
He said it is a privilege to serve the school district and he looks forward to helping the students and staff in their continuing successes.