Monday, June 11, 2007
/lk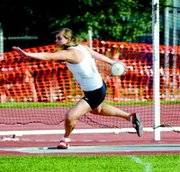 FRESNO, CALIF. - Annie Hess of Bickleton took another big step toward reaching her dream of making the U.S. Olympic team in 2012. A 2005 graduate of Bickleton High School, Hess won the women's discus throw at the recently staged NAIA National Track & Field Championships in Fresno, Calif.
A sophomore on the Concordia University track team, Hess finished fourth as a freshman last year for the Portland, Ore. school in the discus at the NAIA championship meet. This year, she left little doubt as to who the nation's top discus thrower is among NAIA female competitors.
Thinking only of her performance in the circle and not of winning, all five of Hess's attempts were legal throws. They ranged from 158-0 to 169-1...all marks which would have won. The top throw of this year's runner-up, Megan Ilertson of Azusa Pacific University, was 156-0.
Following her five throws at the national meet, Hess said she was grateful to even be competing. That's because in September 2006 she suffered a potentially career ending herniated disk in her lower back and wasn't sure if she would compete again. But, after medical treatments and physical therapy, Hess in February of this year slowly began working back into a doctor-supervised training program.
Heading into this year's NAIA national meet, Hess was hoping to throw the discus 181 feet, the qualifying distance to compete in USA Nationals this month.
"So my distance is a little disappointing," said Hess.
"But I can't wait to throw again. I know there is more," Hess said.
The former Bickleton Lady Pirate continues to train under former world record holder and Olympic gold medalist Mac Wilkins in Portland, Ore. Hess said she hopes to receive an invitation to the U.S. Olympic trials to be held in Eugene, Ore. in 2008.