Tuesday, July 24, 2007
/lk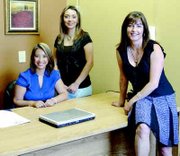 Apple Valley Mortgage, based in Yakima, has been doing business in Sunnyside for a long time. So much business in fact, owner Francine Dubrule added a third branch to the Apple Valley Mortgage chain in Sunnyside, July 13.
"We felt the need for a full-service licensed broker," Dubrule said. "Apple Valley wants to contribute to this community by offering our services for lending."
The new branch in Sunnyside is located at 504 S. Sixth Street and their toll-free number is 877-882-0715.
Assigned to staff the new branch in town are licensed loan officers Lorena Pulido and sister Patty Pulido.
Their job is to help people with different types of financing for commercial and single-family residences - with three types of loans for single families. They are conventional government, FHA and VA loans.
Dubrule said her company works with people with all kinds of credit.
"We think everyone should have the privilege of owning their own home," she said.
Dubrule explained the first thing loan officers need to find out from prospective clients is what they want and need. They also determine the price range of a home the client qualifies for.
"That's very important to let borrowers know what they qualify for before they start looking," Dubrule said. "A good rule of thumb is to look at the sale price and take 1 percent, that's your monthly payment."
She said Apple Valley Mortgage deals with approximately 125 lenders nation wide but have their top ten favorites. Dubrule said she keeps contacts with such a large number of lenders because not everyone fits neatly into one box.
"It been going pretty good," Patty Pulido said of the mortgage company's first week in business. "We made contacts in the area before opening the branch. Business has been coming in."
Her sister Lorena said the two women were usually down in Sunnyside so much anyway it's now much more convenient having a branch located here.
"Our reputation not only speaks for ourselves in the valley but in the state of Washington," Dubrule said, noting her company is in good standing with the Department of Financial Institutions.