Wednesday, July 18, 2007
/lk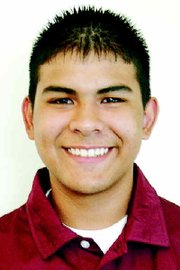 Not too many teens can say, "I spent my 14th birthday in Spain." But it's likely Ryan Hernandez will utter those words when he returns from a trip to Europe made possible by the People to People Student Ambassador Program.
In order to qualify for the trip, Hernandez was first nominated, then interviewed and had to present letters of recommendation.
He leaves for Europe next week and he will tour Italy, Spain and France.
Hernandez is most excited to be traveling to countries he says he would only normally be able to read about or learn about by programs on television.
"It's going to be awesome," he said. He's most excited to learn about what the locals do, about their culture and the difference between their governments as opposed to the United States.
To earn funds for the trip, he mowed lawns and had a couple of yard sales. And, he said, "I cleaned my room and found a lot of money in there!" Added his mom, Maria, with a laugh, "It was his own penny drive."
Hernandez's sister, Jensie, also took part in the program and traveled to England, Ireland and Wales in 2000.
Hernandez will return from Europe on Aug. 11.