Tuesday, January 2, 2007
/lk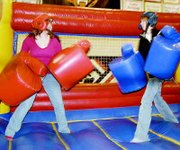 About 175 teens from Granger, Grandview, Mabton and Sunnyside gathered at Sunnyside High School this past Sunday night to ring in the New Year at the annual Midnight Live event.
"This year, they (the kids) were so much more engaged," said Sunnyside's Promise Director Lisa Fairbairn, who helped organize the event. "Everywhere you looked this year, they were doing something fun."
Students were able to dance, watch a movie, play great games and, of course, eat great food.
They were also treated to tables of freebies that featured denim skirts, purses, pants, water bottles and keychains.
Among the funnest items for the kids were the doorprizes, which included MP3 players, an I-Pod, DVD players and television sets. Other prizes drawn included gift certificates from local businesses.
"I was glad the kids enjoyed it. It helped that kids had a hand in planning it," Fairbairn said. Students who contributed to the planning were from Mabton, Sunnyside and Grandview's Compass High School.
"We really appreciate the support we get from our local businesses. Our dollars can only go so far. Without them, it'd be really difficult," said Fairbairn.
The event is sponsored by the Mabton, Granger, Grandview and Sunnyside police departments, Sunnyside School District, Sunnyside's Promise, the Washington State Traffic Safety Commission, Sunnyside Community Hospital and Wal-Mart.