Thursday, September 28, 2006
/lk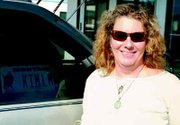 Kim Christianson has traveled the Northwest as a contracted physical therapist.
Now she is in Sunnyside, working with Sunnyside Sports and Physical Therapy through the end of November.
Christianson has been a physical therapist for 10 years and the last three of those she has been a traveling therapist contracted with a Texas company.
Her typical contract calls for 13 weeks in each locale, with an option for the clinic to renew it for another 13 weeks.
She covers an area encompassing Washington and Oregon and this is her second stint in the Lower Valley. Christianson said she was in Prosser last year with a clinic. "With the large Hispanic population it gives me a chance to practice my Spanish," said Christianson.
She said she likes the desert climate of this area and, like her other stops, Christianson is staying here in a 19-foot trailer she takes with her.
Christianson, 49, said she enjoys the travel and praised her 1999 Chevy Blazer that already has 200,000 miles on it.
She said she got her job through Monster.com and that contract therapists are needed because of a shortage of help in that industry.
"All the baby boomers are getting older," she said.
While she likes seeing the countryside, Christianson said her contact with her family and hobbies such as photography and reading help her stay grounded and have a sense of home.
She is also licensed to operate her own therapy business.
"I keep a table in my truck jut in case," she smiled.