Tuesday, September 19, 2006
/lk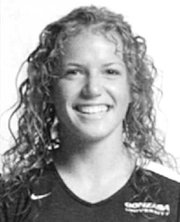 SPOKANE - Former Sunnyside volleyball standout Christy Linde made the grade both on the court and in the classroom and is now a student-athlete at Gonzaga University.
Linde, valedictorian for the Sunnyside High School class of 2006, realized her dream of earning a spot with an NCAA volleyball squad but will have to wait before she takes the court for the Zags.
During a Gonzaga practice just over two weeks ago-just before the team's first match-"leapin" Linde tore a muscle in her right shoulder while attempting her trademark jump serve she learned during high school volleyball under Sunnyside Coach Angel Carrizales.
"I was serving and something in my shoulder snapped and popped," she said by phone from the Gonzaga campus.
She is scheduled to have surgery on the shoulder in Spokane next week.
Recovery will require Linde to wear an arm sling for eight weeks, followed by an eight-month rehabilitation stint. Doctors predict a full recovery for Linde, who will still retain four years of volleyball eligibility after this season.
Though she won't see game action for Gonzaga this season, Linde attends practices with the team, as well as home and nearby road games.
To keep in shape, Linde says the Gonzaga staff have her and other injured players on an exercise regimen during team practices.
Even with the injury, Linde is upbeat about life at Gonzaga.
"Even though this injury has happened, I learn a lot from watching the practices," she says. "I would say everyone in college is good. The speed of the game is a lot faster."
A freshman, Linde is also enjoying studies in Exercise Science, a precursor to her eventual goal of becoming a physical therapist.
It makes for a pretty busy life, she adds.
"Basically all I do is eat, do homework and go to practice," she laughs. "I don't have a social life right now."
But the dream of big-time college volleyball would have been more of a pipe dream without Linde's good grades.
LaDon Linde, her father, said Gonzaga offers few athletic scholarships. He said the university recruited her and was generous in its academic scholarships. But that's just it, they were academic, not athletic.
She said her path towards Gonzaga started with participation in summer volleyball camps the university offered.
During her senior year, Linde said she sent letters to volleyball programs. Gonzaga, for one, took notice and scouted Linde during trips to Sunnyside.
Seeing was believing for Zag Coach Kip Yoshimura.
"I loved her athleticism and her enthusiasm," Yoshimura said by phone.
"I was just excited that the whole thing happened," Linde said of being recruited to the Gonzaga team. "I was really excited when it happened."
Yoshimura said Linde was showing progress during the pre-season and his plans were to use her as a backcourt defensive specialist. "She's a great teammate and we were looking forward to the season."
In looking forward to the future following Linde's recovery, Yoshimura noted, "It's hard to predict, but hopefully she'll maybe in a couple of years be a standout for us as a backcourt specialist."
But Linde and Gonzaga are focused on the present, as the team builds early season momentum following a recent victory over Eastern Washington University-the Zags' first in 10 years.
As far as others longing to pursue a dream in volleyball or in any sport, Linde had this advice when asked, "I would say practice a lot and start the recruiting process early."
Oh, and then there's the matter of grades-good grades.
Linde not only encourages high schoolers to pursue them, but is an example of what happens when you earn them.
"I'm glad I had good grades," Linde says.