Tuesday, September 19, 2006
/lk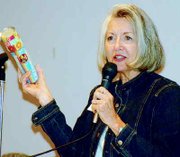 PROSSER - A picture-perfect childhood in coastal California wasn't enough to prepare Seattle teacher Betty Barnett for depression.
Addressing the Lower Valley Christian Women's Club Monday, Barnett spoke out about depression and mental illness, and how it can be a family trait rather than an individual problem.
Barnett said life was smooth sailing for her until her sophomore year in college in the late 1950s, when she was leveled by a bout of depression that ultimately led her to be housed in an institution.
"The doctors told my parents that I would probably be in an institution for the rest of my life," she recalled.
Only then, she says, did she learn of her family's background related to mental health conditions.
Quietly, an aunt and both grandmothers shared their bouts with depression. Even Barnett's parents came forward with their struggles.
The information stayed within the family, a concession to the stigma of mental illness during the late 1950s, but it prompted Barnett's family to believe she could overcome it just as they had.
And, sure enough, she did.
Barnett went on to attend UCLA and is today an educator and nationally known speaker.
But, mysteriously, the mental depression returned about six months ago. Yesterday's speech was her first since then.
Barnett said the re-appearance of depression-after a 47-year absence-stumped the doctors, who even now do not know what triggered the incident.
She credited her relationship with Jesus Christ and the support of her husband for getting her through the depression.
"I know we have the Lord, but during those times it was so good to have someone with me, someone I could lean on," Barnett said.
She also praised modern medicine for helping resolve the chemical imbalance that can lead to depression. "It's wonderful the medications that God has given us today," Barnett said.
Though progress has been made in the fields of mental depression, Barnett said there is still a social stigma. She noted that every time she speaks there are audience members who later confide that they, too, were afflicted with depression.
And that's why Barnett boldly shares her story.
"If you talk about your problems, it helps others talk about theirs," she said.