Monday, September 11, 2006
/lk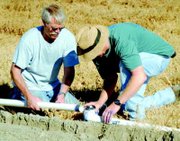 A pipe dream no more, the Port of Sunnyside on Saturday placed irrigation pipes in six acres at the I-82 interchange next to the John Deere dealership along Midvale Road.
The work featured help from 17 volunteers, including the Rotary and Kiwanis clubs and port employees, and cooperation from the city of Sunnyside and the state department of transportation. It included laying irrigation pipe on two islands separated by the I-82 eastbound exit off of Midvale.
The goal, said Port Manager Amber Hansen, is to create an attractive entryway into Sunnyside.
"As you drive around the state you'll notice a lot of communities have done beautificaton on their off ramps and entrances to the community," she said.
The state's help was needed, she said, because it owns the land and cooperated by waiving permits.
Sunnyside has pledged to provide water to irrigate the site at no cost and waive water utility fees.
"We wouldn't have made any progress without our volunteers and without the city and state's help," Hansen said.
The progress made Saturday placed irrigation pipe in one of the two islands and about half of the other island. Hansen said she hopes the irrigation piping can be wrapped up by Port staff over the next few days. Otherwise, she said another call may go out for volunteers.
When the irrigation system is up and running, Hansen said the off-ramp islands will be hydroseeded in late September or early October.
Future plans call for planting trees in the entryway areas next spring.
The port is footing the bill for the whole project, including pipe, hydroseeding and trees.
Hansen estimated the total cost to the port at about $35,000.
The money for the project is from funds the port received when irrigators purchased temporary water rights from the port to get through a summer drought a few years ago.
"Because that money came in as not part of our normal budgeting process, we made the internal determination to do things with it that are community oriented and benefit the whole community," Hansen said.