Thursday, October 26, 2006
/lk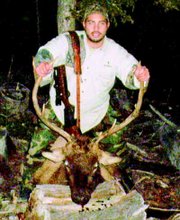 The first time was a charm for Sunnyside native Mario Romero, who shot a bull elk on Monday (Oct. 23) on the first day of a special hunt.
Romero, 28, was one of just 118 people drawn for the special permit to hunt elk in the Rimrock area, towards White Pass on Highway 12 and south of Rimrock Lake.
It was the 1996 Sunnyside grad's first time to be drawn for the hunt
"It was a late afternoon hunt and it got dark on us quick," said Romero's father, Fidel, who served as guide and helped pack out the prize. "He got it just in time."
Fidel estimates that his son bagged the 400-pound, 4x5 elk (four spikes on one antler and five on the other) from a distance of about 100 yards.
Romero lives and works in Seattle, but regularly visits his parents in Sunnyside.