Friday, October 13, 2006
/lk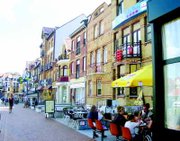 by Helen Shuttleworth
I walked out my front door in Sunnyside, leaving behind everything I had know for years, got on a plane and, in my own analogy, dropped off a cliff.
Or that is emotionally what the first few days of my journey to Belgium felt like.
Not to worry though. After four days of sleeping and extreme homesickness, I realized that in dropping off the cliff, previously known as my life, I had nowhere to go but up.
So up I am going.
Once I started my climb, I have come to find that Belgium is amazing. I have yet to find myself without something to do. Even at school, where, for the most part, I can understand only a word here and there, I still seem to enjoy every moment and take in so much even after just a month and a half.
I'm living in the small coastal town of de Haan. It's not too far from Bruge and right on the beach. Unfortunately, my small town doesn't have much that is not oriented towards tourists. With the lovely public transportation, I can be anywhere in Belgium in less than three hours, so it's pretty easy to do anything.
On a daily basis, I take the bike, in true Flemish fashion, to the tram station and then the tram to Brandenburg, where I attend St. Jozef TSO. From there, I can take the train all over Europe.
At school I am part of a class learning how to be tour guides, so I'm learning a lot of languages: French, German, Dutch and English, as well as regular class trips to Bruge to learn how to give tours.
I will be giving one of my own sometime near the end of October, I believe.
It's quite different from the schools in the U.S.A. I stay with one class all day long with the exception of a few more Dutch classes I take and a project class where I am learning how to make movies. That class is held mostly during other students' Spanish class. (I figured three new languages were all I could handle at once.)
Although the kids in my class are about three years younger than I am, I like them a lot and we have a good time. Although they all speak amazing English, they make me speak Dutch and that is helping me improve a lot.
The language is probably the most frustrating part of my exchange, so far, but that is truly to be expected. It's difficult, but will definitely be rewarding once I am able to speak fluently. It is very tempting for me to use everyone else's knowledge of English at times, but I'm getting better at steering away from that crutch.
I speak only Dutch with my host mother and other kids of my class. There is also one other exchange student at my school, a girl, Define, from Italy. I also have been speaking Dutch with her. I find it to be the easiest because both of us can speak only in small sentences and very slowly, so we are both able to understand each other and it's very good practice. It's also comforting to be able to talk to someone else in the same situation. We can talk about the things we find really good or new and awesome without one looking at the other as if at someone from another planet. It's a good feeling.
The most famous things about Belgium are the beer, fries and the chocolate.
I don't really like the beer. I make up for it with the chocolate, which I love way too much for my own good. Chocolate is a staple in the Belgium's daily diet. For breakfast there is bread and butter and thin chocolate bars on top or chocolate sprinkles. Every day!
Then we have the fries. People make fries in the kitchen for dinner here, and you always eat them with mayo. The mayo here tastes different than it does in the states, so it tastes really good, especially on the fries. We don't go out to eat fries very often, but there are shops for them here, equivalent to our fast food restaurants.
Oh, oops, I almost forgot to mention the bread. It's always fresh, yummm. There are also bakeries that sell fresh bread rolls and many other treats. I have a year and want to try them all, but don't think I'm going to make it.
Last, but not least, let me tell you about my travels. I have yet to leave the country, but have been able to visit Bruge on many occasions because it is so close. I also have had a chance to see Brussels with Rotary and then again with Maria, a 2003-04 exchange student to Sunnyside, when she came to visit. It's a beautiful city.
The buildings here are amazing. They are all made of brick, which I think led to the largest part of my culture shock on arrival, but now I find them to be one of the things I am enjoying the most.
I also have seen a few random towns in the French-speaking part of the country when I stayed with other exchange students. Also, I saw the sights down a river in the very south of Belgium when with Rotary or on a kayaking trip.
I am definitely loving every minute of my stay in Belgium. It's hard at times, but, beyond doubt, worth the small difficulties for all the wonderful experiences.
Veel groetjes uit België.