Wednesday, November 15, 2006
/lk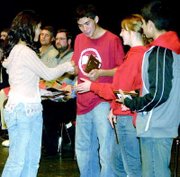 Sunnyside High School held its fall sports banquet Tuesday night to honor and award its fall athletes for their academic and athletic achievements.
Freshman football player Leo Cuellar, junior varsity football player Mike Martin and varsity football player Jose Barajas picked up the top academic awards on the football team.
Varsity quarterback Adrian Cantu was named the offensive most valuable player and Danny Alvarez was named the defensive most valuable player. Other football awards went to James Baysinger, for most inspirational, Jordan James was named the most improved player and Carlos Orozco was named team captain.
Varsity cross country runner Marlene Manzo earned the top academic award in her sport. She was followed by Sterling Scott and Jordan Esqueda, who shared top honors in academics for the varsity boy's team. Tristin Abbott was given the academic award for the junior varsity boy's cross country team.
Jacob Rogers and Kasi Reyes were named the most improved boy and girl on the cross country team. Dane Schmick and Manzo were given the coaches award and most valuable runner awards went to Brittany Messmore and Jordan Esqueda.
Cheerleader Daneill Gonzalez was given the academic award for the rally squad. The spirit award went to Alejandra Bobadilla and Jeanette Esqueda earned the team award. The coaches award was given to Veronica Romero and most improved cheerleader honors was awarded to Jamie Zijlstra.
Kristen Wedam took the academic award and was named most improved for the girl's swimming team. Katie Knee picked up the coaches award.
Melissa Stamschror earned the academic award in varsity volleyball. She was joined by junior varsity player Megan Tyler and "C" squad teammates Hailey Moore and Jenna Zamarron.
The most improved player award went to Molly Dolan and Marina Martinez hustled her way to the heart and hustle award.
Kerri Urrutia was named team captain and Claire Schilperoort was honored with the most valuable player award and the coaches award.
Academic awards for the soccer team went to varsity player Sasha Castro and junior varsity player Katie Herndon. Stephanie Garza was named most improved player on the soccer team and Melissa Miller was given the defensive MVP while Castro picked up her second award when she was named offensive MVP.
Teresa Ramos was named most inspirational and Leslie Jones was awarded the coaches award.