Tuesday, March 7, 2006
/lk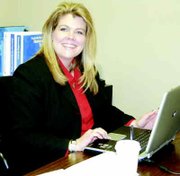 Melisa Oswalt has been on both the lending and selling side of home buying, so she knows how important buying a new home can be to somebody.
"It's a big ticket item," said Oswalt, who started as a realtor at Sunnyside's Prudential Valley Investment Properties in January. "It's something that's near and dear to peoples' hearts."
The Sunnyside native began working at Prudential, which her parents, Jobob and Sandy Bos own, after taking a couple years off to stay at home with her young children.
"There were a number of things that have played into wanting to become a realtor," Oswalt said.
One thing that really helped push her toward real estate is that her parents have nearly three decades of experience in real estate each.
That helped get her into the business, but it wasn't what she chose to do right out of college, Oswalt said.
Oswalt said the question often came up as to when she was going to start working in real estate.
After Oswalt graduated with a degree in business administration from Seattle Pacific University, she went to work for the Yakima Chamber of Commerce.
But that wasn't her first stop on the way to becoming a realtor.
After the chamber, Oswalt said she moved into a management training program with Washington Mutual. She said that job gave her the experience of being on the lending side of real estate.
That wasn't her final job before taking her current position with Valley Investment Properties.
Oswalt said she spent a couple years working for the Secondary Education for Migrant Youth program, which provides education strategies and resources for migrant students.
After spending a couple years as a stay-at-home mom, taking care of her two youngest children, Ben, 2, and Gabriel, 4, Oswalt felt like she could return to the work force without worrying about her children. But she's adamant that family is one of the most important things in her life.
"Family has been a big priority of mine," Oswalt said.
Oswalt says Valley Investment Properties is a good place to be. The company has a couple new realtors who are learning about the business together, "which has been fun," she said.
Oswalt said going into the state realtor's exam, she felt confident.
"Going into the state exam, I felt well prepared," she said, noting that even though she was confident she wasn't taking the test lightly.
Though she passed the exam, she said she'll continue to take a continuing education exam every two years to make sure she stays up to date with all the current real estate information.
Now that she's working as a realtor, she's looking forward to matching the right house to the right buyer, Oswalt said.
"Where I'm at is exactly where I want to be," she said.