Tuesday, July 18, 2006
/lk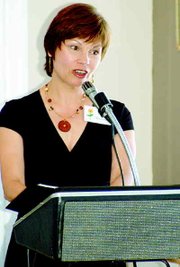 GRANDVIEW - Taking a cue from elementary students she has taught for the past 26 years, Linda Wozniak shared the life lessons she has learned.
"I learn from my students," Wozniak told a luncheon crowd yesterday at the Flour Shop restaurant in Grandview.
Wozniak, who lives in Olympia, was in Grandview for a teacher-themed luncheon hosted by the Lower Valley Christian Women's Club.
She also noted some of her humorous exchanges with students, such as one incident when a student complained of being called a "bumper car" by a classmate.
"I didn't know what to say," she laughed. "I'd never heard anyone called that before."
As she pondered what to say, Wozniak said the student piped up and asked, "You want me to handle it?"
Wozniak said just as first graders need affirmation from others, sometimes adults need that as well. Especially if their feelings have been hurt.
She went on to describe her own attempts at finding normalcy and affirmation after growing up in a home where her parents argued and her father would fly into outbursts of rage. "I told myself I would not be like them," she said.
Wozniak said she thought she had found a normal home life with a husband and two children. "I even coached my kids' soccer team," she said.
What she thought was a normal situation changed dramatically when Wozniak said her husband left her after 25 years of marriage.
"My family was no longer intact," she said.
After seeking counselors-including seven in one year-to help her cope with the break-up of her family, Wozniak said she became depressed.
She said things began to change for the better after a friend invited her to a Bible study.
"I hated being alone so I went," Wozniak recalled. "But at that point I probably would have gone to a dog fight just so I wouldn't be alone."
It was through Bible study with others and on her own that Wozniak said she step by step began seeing there was more to Jesus than "just facts."
She says her new, positive outlook on life stems from Bible study and a personal relationship with Jesus.
It is also the result of transforming from teacher to student.
"Just as I taught my students writing step by step, God was the teacher and he was teaching me step by step to learn to live and think in a new way."
.