Tuesday, December 12, 2006
/lk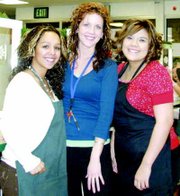 Sunnyside Beauty Academy is now accredited by the National Accrediting Commission of Cosmetology Arts and Sciences (NACCAS). According to Gayle Hays, owner of the local school, "This is a big deal. It usually takes one to two years."
Sunnyside Beauty Academy started the process of becoming accredited in October 2005. Hays started filling out the paperwork and filed her application two years to the day after first opening her business about three years ago. Two years is the minimum requirement for a business to be open before the application to NACCAS can be filed.
"They (NACCAS) made their first one-day visit to look at the school set-up and application, just to consider the application in January," Hays commented.
She further explained there was a lot of paperwork to be completed in order to meet the standards of NACCAS. Displaying a very large manual she completed, she said, "The sad thing is I had to type this twice since I didn't save my work the first time."
The NACCAS made its final visit on Aug. 22, 2006, to finalize the decision to accredit the Sunnyside school.
Hays explained it is very important to become accredited due to the need to provide financial aid to her students. The school offers an 1800-hour curriculum governed by the state. However, financial aid was not an option until now.
"We also offer Sallie Mae funding, as of last week," she said of additional financial assistance offered to students. Hays added, "Up until now, the students have had to pay up front and out of their pockets for classes."
"I expect to see enrollment increase with all the new financial aid available," Hays exclaimed.
Hays went on to add her 98 percent job placement rate has offered students more opportunities than she had imagined, citing one of her students is in Hawaii and another went to Texas.
The standards Sunnyside Beauty Academy has to keep under the new accreditation are higher than the state requirements and Hays is confident they will continue to meet the criteria in order to keep the accreditation.
She stated she had goals set for her first five years in business, "I only have two years left!"
One of those goals is to offer a massage curriculum. She says her main objective is to allow her students a variety of choices for their career in cosmetology and a new variety of techniques.
Hays finished with "None of this would be possible without my great staff," speaking of Meredith Whited, her instructor.