Friday, December 1, 2006
/lk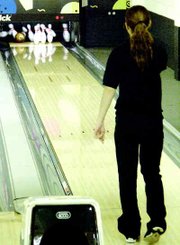 The Sunnyside High School girls bowling team dropped a 3-1 decision to the visiting Davis Pirates Thursday afternoon.
Yesterday's loss dropped the Lady Grizzlies to 1-6 on the season.
The lone point Sunnyside managed off the Lady Pirates came in the first of two Baker games, where each member of the five-girl squads alternate taking turns throughout the 10 frames. Sunnyside averted the shutout with a 153-120 victory in the first Baker contest.
Davis wrapped up the match by taking the second Baker game, 177-129.
In the first two regulation games of the match, Davis won handily by scores of 767-629 and 703-646.
The Lady Pirates were led by Erin Socha, who rolled games of 179-169. Davis also got a 303 two-game series from Jerica Lennartz (143-160).
Sunnyside's top bowler yesterday was Veronica Uribe. She tossed a 304 two-game series on efforts of 150-154.
The Sunnyside squad's next scheduled match is next Thursday at its home house-Valley Lanes, against the Eisenhower Cadets.
In JV action yesterday, Davis claimed a 3-1 win. The Sunnyside junior varsity scored its one point with a 102-95 victory in the first Baker game.
First Game
Davis varsity
Elizabeth Finley 148
Cherie Moller 148
Erin Socha 179
Jerica Lennartz 143
Raven Stackhouse 149
Total 767
Sunnyside varsity
Veronica Tlatelpa 116
Kayla Coder 105
Michele Williams 125
Jackie Francis 133
Veronica Uribe 150
Total 629
Second Game
Davis varsity
Elizabeth Finley 135
Sarah Finley 113
Erin Socha 169
Jerica Lennartz 160
Raven Stackhouse 126
Total 703
Sunnyside varsity
Veronica Tlatelpa 115
Kayla Coder 135
Michele Williams 121
Jackie Francis 121
Veronica Uribe 154
Total 646
Baker Games
Davis 120
Sunnyside 153
Davis 177
Sunnyside 129
&nbsp