Wednesday, September 7, 2005
/lk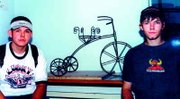 Instead of taking a summer job that might have earned him a substantial hourly wage, 2004 Sunnyside High School graduate Frank Kearney recently elected to stay in the classroom.
This summer, the young welding student chose to spend his time in the welding shop at Columbia Basin College, where he will be a sophomore this fall. He made the decision to perfect his fusion techniques in order to earn his welding certification, rather than collect a big paycheck.
"He turned down jobs in the Hanford area, where he might have been paid upwards of $38 an hour to earn his certification," said his former welding instructor, Tom Dolan of Sunnyside High School.
Dolan, who began teaching high school welding nearly six years ago, said Kearney was a marginal student in most of his classes. "But he excelled in the welding department," Dolan said.
Dolan isn't worried that Kearney won't be able to find a job in the future. Turning down the summer job to stay in school just proves to Dolan that Kearney is serious about being the best welder he can be.
Kearney is one of the first of Dolan's welding students to graduate and continue his education in the fusion technology field. "He has a natural talent for welding, " Dolan said.
Kearney, who was in Dolan's first high school class of welders, took to welding five years ago. He said he just likes welding.
"I know there is a lot of money to be made as a welder, but it's important to have the proper credentials," the young man said.
Kearney said despite the image that welding is dirty and messy work, he finds the technology is anything but.
"A lot of people questioned my decision regarding welding, calling it blue collar work," he said.
"But welding isn't dirty, it's clean, precise and technical so why wouldn't I want to do it," he asked.
Kearney, whose welding handiwork is scattered all over Dolan's classroom, had a hand in building the giant metal grizzly now located on the Clem Senn Football Field. He also helped with the work Dolan's class did on the shelter for the Ben Snipes Cabin near Central Park.
"We were surprised that our class was asked to work on that project," Kearney said.
"I thought that project would have been the work of professionals. But Dolan had us out there getting the experience," he said.
Kearney, who admits school was never really his thing, loved welding.
"It was tough at first, but I liked it and it kept my interest," he said.
"Welding class made me want to go to school every day," he said.
Even his grandmother, Shirley Kearney, she was surprised by the change in her grandson as a result of his attendance in the welding class.
"He always hated math in school, but at college he is now doing very well, " she said. "He finally has a goal," she added.
Kearney credits Dolan with his new found confidence and desire to go further in the fusion field.
"He (Dolan) always made us feel like we could handle the challenges. He told us we could do it and we did," Kearney said.
In fact, Kearney, while just a sophomore in Dolan's class, did so well mastering simple welds, he soon found himself welding a variety of smaller and more difficult projects. One of the smallest welds he worked on while in high school was a repair to a teacher's easel.
"I had to fabricate a metal piece to make the repair," Kearney said.
Kearney also fabricated the giant grizzly paw metal form used to create the pattern in the concrete pathway from the high school to the football field.
In addition he and a classmate, Matt Garza, even got into the business of making small wrought iron garden art which they began selling while still in school.
These days Kearney is looking at expanding his welding credentials to include stainless steel welding and pipe fitting techniques.
It takes at least two years to learn pipe fitting, the slight young man said.
"There is a lot of money in welding stainless steel," he added.
But Kearney doesn't want to limit himself to welding items. He is also interested in becoming a welding inspector.
Dolan said he appreciates Kearney's desire to focus on earning his credentials first.
Dolan said a consistent weld can mean the difference between life and death.
"Welding plays a big part in so many areas of daily life, from the car you drive to pipes which are used as a conduit for utilities," Dolan said.
There are many things which rely on good welding techniques, he said. "Kearney's welding is consistent and he cares about the finished project," Dolan added.
Dolan, who is staring his sixth year as the fusion instructor at Sunnyside High School, said Frank Kearney's name will head up Dolan's new SHS Fusion Wall of Fame.
"He's gone on to earn the necessary credentials. He will soon be earning the money that welders can demand on their jobs," he added.
As for Kearney, he just wants to do well as a welder.
"You just have to practice hard to do it well," he said.