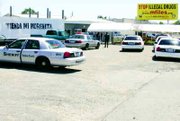 GRANDVIEW - Ironically, a billboard advertising the halt of illegal drug trafficking towers over what police believe to be the latest drug operation shut down by the Law Enforcement Against Drugs (LEAD) task force.
Just feet from the sign is Tienda Mi Morenita, located at 1401 Wine Country Road in Grandview, the business LEAD task force agents say was selling methamphetamine and marijuana.
The small Grandview market was the site of where one of four search warrants were served by the task force Thursday morning. The search warrants were part of an investigation into marijuana and methamphetamine trafficking police believe was occurring at the market, involving store owner Amado Roberto Martinez.
Two other search warrants associated with the bust at the market were issued, as was a search warrant at an unrelated methamphetamine sales operation.
Three of the search warrants concluded a two-year investigation into the marijuana and methamphetamine trafficking activities police say were occurring at Tienda Mi Morenita Market, according to LEAD Det. Doug Hintze.
Also as part of the investigation, LEAD task force detectives, after executing the search warrants at the market and Martinez's home, posed for two hours as store employees as part of a sting operation.
Three juveniles from the area were arrested after they attempted to purchase marijuana from the disguised employees.
The four warrants resulted in the arrest of eight people and the seizure of approximately four pounds of marijuana. Also seized was a small amount of methamphetamine, $2,600 in cash, four vehicles, two shotguns, three handguns and drug paraphernalia.
Arrested were Martinez, 45, Guadalupe G. Martinez, 31, and Diana Fernandez, 27, who are all charged with distribution of a controlled substance.
Also arrested were three juveniles, who were charged with attempted possession of marijuana. One juvenile was arrested on two felony warrants and one for illegal possession of a firearm and controlled substances.
Other warrants were served at 2600 S. Euclid Road, 210 Wine Country Road and 713 W. 5th Street.
Assisting LEAD with the investigation were numerous agencies, including Grandview police, animal control and code enforcement personnel, Sunnyside and Grandview SWAT teams, Washington State Patrol, Alcohol Tobacco and Firearms, the state liquor control board and the Yakima Drug Enforcement Agency.