Thursday, May 5, 2005
/lk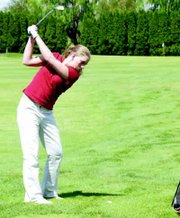 Junior Megan Downing and freshman Dacia Drollinger each shot 18-hole rounds of 120 yesterday during a non-league, non-scoring golf match against the Goldendale High School girls team.
Goldendale's low individual round was a 111.
Wednesday's match, staged at Sunnyside's Black Rock Creek Golf Course, was a non-scoring affair because the Timberwolves only had three golfers available to compete.
The five other Sunnyside girls who golfed yesterday played only the front nine. It was freshman Nicole Southern who led the way on the front side in the scoring department. She posted a 53.
"That's a really great score for her," said Sunnyside Coach Gary Rohde.
Sophomore Vicky Castro added a 75 for the Lady Grizzlies.
The three other Sunnyside girls, a trio of freshmen, to play the front nine were all competing in their first match of the season. They included Emily Shuttleworth, who carded an 81; Julie Wedam, who came in with a 90; and Paloma Mata, who scored a 99.
The Lady Grizzly linksters were scheduled to travel to Ellensburg today to take on the Bulldogs and the West Valley Rams.