Thursday, March 17, 2005
/lk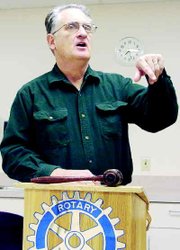 Wine making isn't anything new for Gail Puryear. It was nearly 40 years ago, in 1967, that Puryear got his first taste of good wine and realized what he was going to do with the rest of his life.
Puryear, now the winemaker at Bonair Winery in Zillah, told members of the Sunnyside Daybreak Rotary Club Wednesday morning that he first became interested in wine when he served as a foreign exchange student in southern Chile.
"They told us don't drink the water," Puryear said. So at the age of 20 he started drinking wine.
Although Puryear learned that year that he enjoyed wine it would be a few years before he took his love of wine and put it use.
He explained that when he returned to the United States in 1968 he got married and took a teaching job in California. It wasn't until 1970, when one of his ex-roommates from college called him up and invited him and his wife to meet him in San Francisco, that he learned just how much he enjoyed wine. He said the couple flew to San Francisco and toured the Napa Valley.
"We just fell head over heels for wine country," Puryear said of their experience in the Napa Valley.
When it came time for Puryear to start looking for another teaching job, he and his wife decided that he would only apply to teach in places where the climate would allow for wine grape growing. He said he applied for positions in several California communities, but eventually ended up taking a job in Toppenish, which is where he was born.
In 1980, Puryear planted his first wine grapes and began learning how to grow the grapes.
"We eventually planted our whole five acres to wine grapes," Puryear said.
In 1984, the couple sold their grapes to what was then Quail Run winery in Zillah.
Puryear said it didn't take long for him and his wife to decide that instead of selling their grapes to another winery they wanted to start their own facility. And just one year later, in 1985, they did just that. Bonair Winery was the 31st winery established in Washington state.
"And we've been going strong ever since," Puryear said.
He added that over the years since the couple first got started in the industry there have been a lot of changes and new challenges that have come up.
This year, Puryear said, the challenge will be the impending drought. He told Rotarians that he gets asked on a regular basis how the drought will affect wine grapes. Puryear explained that wine grapevines are plants that don't require too much water to produce a crop.
"If a grower has water at all, it won't affect the wine grapes," Puryear said.
He said as long as the growers are able to put water on the vines later in the year, growing wine grapes shouldn't be a problem.
Puryear said another question he is often asked revolves around people who have a few extra acres of property and are wanting to know what type of wine grape they should try growing.
"My answer...is just plant the variety you like to drink," Puryear said.