Monday, December 5, 2005
/lk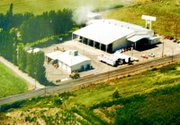 A Sunnyside firm that has been in operation since April 1972 has been sold to a Portland firm. On Dec. 2 Bob Marquez gave over control of Marquez Manufacturing LTD to Beall Corporation.
Thirty-four years ago, Marquez and his brother, Norbert, built the manufacturing plant in Sunnyside that makes all types of farm commodity, rendering and coal trailers.
"We built whatever people wanted. That's been our niche. That's how we survived, building special equipment," Bob Marquez said this morning.
Survival has been the name of the game for Bob. In 1995 or '06, Norbert, recently widowed then, sold his share in the business to Bob. In 1997, the plant was totally destroyed by fire. Marquez rebuilt it from the ground up. When the trend for trailer construction turned from steel to aluminum, Marquez adapted to the change.
"Had to!," he says, succinctly. "This is a highly competitive business. There are a dozen different manufacturing companies in the Pacific Northwest. People will go 500, 600 miles to pick up a trailer. That's no big deal. The bulk of the trailers we build now are out of aluminum."
The 150' x 150' building, which sits on 5 1/4 acres and includes two homes, has offered alternative work to orchard workers, Marquez said.
"These are all people who come out of the orchards. We run them through the training process and teach them how to build trailers. More often than not, we're more busy in the winter time than at any other time of the year," he said, adding that trailer manufacturing really knows no season. "It depends on the economy and what's going on," he said.
If any one of Marquez's seven children had been interested in continuing in their father's footsteps, the sale of Marquez Manufacturing might not have come about.
"None of us lasts forever," said the 70-year-old Marquez, philosophically. "Who would run it for me, when I die."
He said that the agreement he has with the Beall Corporation calls for him to continue with the company for "at least two years".
According to Beall's chairman Jerry E. Beall, the Sunnyside plant will produce about 200 trailers a year, adding $10 million in sales to Beall's projected sales revenue of more than $100 million in 2005.
The acquisition, Beall added, will help Beall meet the high demand for its aluminum tank and dump trailers.
Beall said the Portland company is "constantly seeking skilled workers to build their custom trailers and the Sunnyside operation includes 50 people along with the manufacturing capacity."
Four generations of the Beall family have continuously owned and managed the business operations of the company, headquartered in Portland since 1905. With five manufacturing plants, 13 sales and service facilities and dealers throughout the west, Beall employs more than 500 people to produce, market and maintain their wide variety of tankers and construction products. Beall sells about 1,200 trailers annually, ranking them as the third largest bulk and tank trailer maker in the country and the largest maker of custom tanks. They supply many of the world's largest petroleum companies.
Beall is projecting record sales and growth during the next few years from road construction companies and the petroleum industry.