Tuesday, August 30, 2005
/lk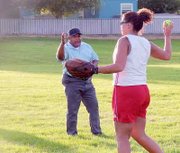 Rudy "Bull" Ramos hit a home run with national softball organizers when he was called on to umpire at the Amateur Softball Association tournament this coming weekend in Valdosta, Ga.
The Sunnyside resident is one of only two officials from the western U.S. - and one of just 25 nationwide - working this week's Class C men's slowpitch softball national tournament.
A slowpitch official for 25 years, this will mark Ramos' fourth appearance at a national tournament.
Before officiating, Ramos made his mark on the local softball scene as a pitcher for 18 years.
Now, with the roles reversed as he works behind the plate, Ramos said he tends to call a tight strike zone. "Because I pitched for many years, I feel that if someone's a pitcher they should be able to put it over the plate," he explained.
The key, he adds, is consistency in calling balls and strikes. A proper strike zone, he notes, should include the back shoulder and the front knee.
From umpiring in local summer softball leagues to this weekend's massive national tournament featuring more than 80 teams, Ramos has seen it all. At last year's men's D national tourney in Salem, Ore., for example, some games were even called because of fog.
Besides his fulltime job at the Roza Irrigation District, Ramos has made time to umpire up to 25 games in a single week. Now at age 51, he is helping usher in a new generation of umpires as a trainer and assigner.
In fact, umpiring has become a literal family matter for Ramos.
"One of my biggest thrills was being able to officiate with my son, Michael Lucas," he smiled. In addition to Michael Lucas, 17, Ramos hopes to train his 15-year-old daughter Victoria to be a softball official.
While adult slo-pitch softball has brought Ramos national acclaim as an umpire, it is the kids who keep him in the game.
"I was thinking about quitting a few years ago but my wife (Molly) talked me into officiating for the schools," he recalled.
That, in turn, has kept him fresh for his demanding schedule as a softball official.
"I always said I'd retire when I didn't have fun any more," he chuckled. "Now, with the high school games, I enjoy officiating more than ever!"