Friday, April 1, 2005
/lk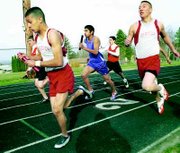 GRANDVIEW- With 170 points, the Grandview High School track team earned third place honors at its own invite Thursday afternoon.
Grandview boys shotputters Cody McMillan, Andrew Peterson and A.J. Hawn pushed their team forward, earning three of the top four placings in the event.
McMillan placed first with a toss of 46-1 1/4. Peterson earned second place honors with a 42-4 effort and Hawn was fourth with a throw of 39-7.
McMillan also placed first in the discus with a throw of 135-8. Grandview's Andrew Morales placed third in the event with a throw of 108-5 and Peterson was sixth, throwing a distance of 99-5.
Lady Hound thrower Chelsey Jones placed third in the javelin with a 91-10 effort. Jones also placed fourth in the shotput with a distance of 28-8 1/2. In the girls discus event, Tiffany Champion earned Grandview fifth place honors, throwing a distance of 74-3.
The Grandview boys and girls thrower relay teams also placed first at the event.
McMillan, Peterson, Brad Copeland and Christensen placed first with a time of 50:31.
Lady Hound throwers Erica Mendez, Ashley Luper, Tiffany Champion and Jones clocked a time of 58:80.
Taking first in the 800-meter run, Grandview's Cordero Cisneros clocked a time of 2:00.46, a full eight seconds ahead of his next closest competitor. Cisneros was also first in the 1,500-meter run. He clocked a time of 4:26.23.
Lady Hound runner Brittnee Sanchez also placed first in the 1,500-meter run with a time of 5:11.20.
Grandview's Juan Razo earned first place honors in the 300-meter intermediate hurdles with a clocking of 44.12.
The 4x400 meter boys relay team of Jimenez, Razo, Vela and Cisneros placed first with a clocking of 3:36.53.
Jimenez, Silas Hansen, Razo and Vela placed third in the 4x100 meter relay with a clocking of 46.66.
The girls 4x400 relay team was third with a clocking of 4:31.49.
The 4x100 girls relay team of Ai Tomizawa, Akane Tomizawa, Kara Stanton and Tonhya Wysong placed fifth with a clocking of 55.84.
Tomizawa, Tomizawa, Johnson and Wysong placed fourth in the sprint medley with a clocking of 2:06.30.
In the boys 100-meter dash, Grandview's James Vela placed sixth with a clocking of 12:60.
Grandview 3,000-meter runner Ivan Zamora placed sixth with a clocking of 10:43.
In the 110-meter high hurdles Grandview's David Rodriguez placed fourth for the boys with a clocking of 19.39. In the 100-meter hurdles Stanton was fourth with a clocking of 19.66.
Greyhound pole vaulter Max Saldana placed sixth after launching a 8-0 effort.
Lady Greyhound long jumper, Wysong, placed second in the event with a distance of 15-2 1/2.
Wysong and Akane Tomizawa each earned third place honors in the pole vault with a height of 7-0.
Greyhound high jumper Copeland placed third in the event with a height of 5-6. Noel Hinojosa was sixth with a height of 5-6.
.