Tuesday, September 21, 2004
/lk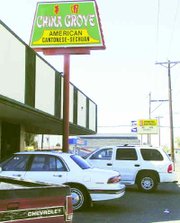 Faithful patrons of the China Grove were notified last week that the Chinese restaurant will be closing until their new building on Picard Place, which is just off Wanita Road, is completed. The Yakima Valley Highway restaurant closed its doors Sunday, Sept. 19.
According to Kitty Hui, co-owner of the China Grove, their lease was up and they were unable to reasonably rent the space until their new building is complete.
She said it was a difficult decision she and her husband, Hei, had to make, but they hope their new building is completed within the next two or three months.
"We hope it's finished before the holidays," said Hui.
China Grove has been a Sunnyside favorite for the past 20 years. The Huis purchased the business from his family about two and a half years ago.
"We're packing up and moving stuff," said Hui.
The couple had been renting the Sunnyside building since they bought the business, but their hope has been to build a new restaurant of their own.
"We've always wanted our own building," said Hui. "This (closure) is just temporary."