Wednesday, October 13, 2004
/lk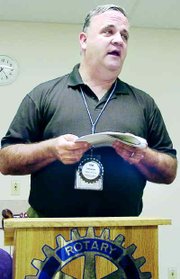 Public speaking, a death in the family, a job change and divorce are all situations that can bring stress into a person's life. Stress is something that can lead to a number of health problems, including high blood pressure and extra wear and tear on the body.
Wednesday morning, Tom Lathen and Sandra Linde with Sunnyside Community Hospital talked to members of the Sunnyside Daybreak Rotary Club about stress and healthy ways to cope with it.
Lathen and Linde explained that stress is something that can give people an adrenaline rush, as well as feelings of anxiety. The two noted that stress can also lead to burnout.
"It really is a big deal, especially when there is accumulated stress," Lathen said.
Lathen explained that accumulated stress can make a person feel out of control, which can lead to lateness and procrastination, as well as feelings of depression.
Lathen told Rotarians people often cope with stress by increasing their consumption of things like coffee, tea, soda and tobacco.
"They try to cope with this the best they can," Lathen said.
He added that stress can also lead people to consider making changes in their lives, from changing jobs to thinking that moving is going to make the stress go away.
"I have seen this in a lot of people," Lathen said, noting that many people think that if they can just get a job in Seattle everything will be fine, but instead when they move the stress follows them.
Lathen said one of the reasons it is important for employers to know about the effects of stress is because it can lead to burnout.
"We need to find ways to come in and take care of some of that stress," Lathen said.
He then pointed out some ways that stress can be managed, including eating a nutritional diet, working on time management and avoiding things that are known to cause stress. Lathen added that getting enough sleep and doing some sort of physical exercise can also help reduce stress.
In the end, Lathen said it is important for people to step back and evaluate the level of stress in their lives and decide how to best take care of it.
"Take a step back and think about it," Lathen said.