Friday, November 12, 2004
/lk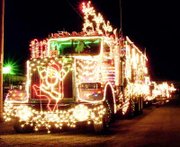 In just three weeks, holiday- decorated farm equipment will rumble onto the streets of Sunnyside for the 16th annual Sunnyside Lighted Farm Implement Parade. To make the holiday event more fun, a variety of activities have been added to the weekend, ranging from a museum open house to a breakfast with Santa.
Underwritten by American West Bank, the 6:30 p.m. parade on Saturday, Dec. 4, will pass through town. Awards will be presented in front of Sunnyside Centennial Square, at the corner of Edison Avenue and Sixth Street, according to this year's parade organizers.
Designed to capture the spirit of rural Christmas and the Valley's outstanding agricultural heritage, Sunnyside's unique salute to agriculture continues to grow and become a more spectacular event each year, said Kathy Corliss of the Chamber of Commerce office.
Each year the parade features some of the most unique, lighted parade entries imaginable. Entries have traditionally included beautifully lighted combines, boom trucks, sprayers, swathers, and all types and sizes of tractors. Other parade entries often include antique cars, animal-drawn entries, an occasional steam engine, as well as Christmas floats.
To kick off the day's activities, youth of all ages are invited to have "Breakfast with Santa" bright and early Saturday morning. The breakfast will begin at 8:30 a.m. and will be held at the Sunnyside Community Center, 1521 South First St. Families are invited to have a pancake breakfast, give Santa a wish list and have their picture taken with the jolly old fellow.
Contact the Chamber office (837-5939) for breakfast tickets.
Immediately following the breakfast, the Dairy Fair will host "Decorating Cookies with Mrs. Santa" at the Dairy Fair on Alexander Road. The children may decorate cookies from 10:30 to 11:30 a.m., while parents enjoy hot cocoa and cider, said Tami Silva, Dairy Fair manager. "This will be an opportunity to frost and sprinkle cookies with Mrs. Claus and Dairy Fair's elves," Silva said.
Children decorating the cookies are encouraged to save them and enter them in the "Santa's Treats" contest to be held prior to the parade later in the day.
The Santa's Treat Contest will be held at 5 p.m. at Centennial Square. For children 10 and under only, this contest is a chance to display what treats children plan to leave out for Santa when he visits on Christmas Eve. Awards for this contest include a U.S. Savings Bond for the first place winner and gift certificates for second and third place winners.
Also planned as part of the parade weekend is an open house at the Sunnyside Historical Museum, South Fourth Street and Grant Avenue. It will be held Saturday, Dec. 4, from 1 to 4 p.m. The museum board invites the community to drop by and enjoy homemade cookies, coffee or punch, as well as musical entertainment by Corey Murphy. Admission to the museum is free.
The Sunnyside Kiwanis Club will open the doors at the Sunnyside United Methodist Church, Ninth Street and East Edison Avenue, at 4 p.m. for their annual pre-parade pancake feed. Warm up and fill up before the parade while supporting the Kiwanians' annual fund-raiser, say organizers. Cost for the pancake supper is $5 for adults and $3 for children 12 and under.
Prior to the parade, make plans to join other parade-goers for community caroling at the gazebo in Centennial Square, corner of Sixth Street and Edison Avenue. The Chamber will also have a guest storyteller or two on hand to recite Christmas stories of old.
Parade applications are available at the Sunnyside Chamber of Commerce office, located at 520 S. Seventh St., or by call (509) 837-5939 or 1-800-457-8089. Applications must be returned to the Chamber by Monday, Nov. 29.
. Julia Hart can be contacted at
(509) 837-4500, or you can e-mail her at jhart@eaglenewspapers.com
Christmas parade grand marshal nominees sought
Currently, the Sunnyside Lighted Farm Implement Parade Committee is seeking nominations for this year's parade grand marshal.
Nominees must be (or have been) associated with the local agriculture industry.
Nominations may be mailed to the Sunnyside Chamber of Commerce, P. O. Box 329, Sunnyside, WA 98944.
Nominations should consist of a letter of recommendation, including a brief description of the nominee's contributions to agriculture and the community. Please include the name and telephone number of the nominator, as well as the address and telephone number of the nominee.
Nominations for grand marshal must be received by the Chamber of Commerce no later than Monday, Nov. 15.