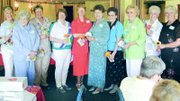 Even though she has been the president of the Lower Valley Nouvella Club for the past several years, Lu Ann Roach has not lost her enthusiasm for the leadership role.
Yesterday afternoon Roach, along with officers who have served with her in the past, reaffirmed their commitment to the service-oriented group.
Serving with Roach will be LouAnne Stiltner, first vice president, Betty Carlyle, second vice president; Edith Higgins, third vice president; Pam Serrano, treasurer; and Elsie Bell as recording secretary.
Also installed as officers were Nita Coleman and Beth Miller as the editors of the club's newsletter. Deborah Clark will handle publicity, with Eleanor Yockey and Hazel Jacobson sharing hostess duties.
The Nouvella Club has been one of the staunch supporters of the Lower Valley Pathway and recently contributed funds for the establishment of a new shady shelter on the pathway. The structure will be dedicated to the memory of Gerald Blunk, husband of long-time club member and pathway promoter Rita Blunk.
Blunk reported that the Grandview City Council has agreed to match the club's pledge for the shelter project, as have the Yakima County commissioners.
"We are hoping to hear soon if the Sunnyside City Council will also support the project," said Blunk, who along with her late husband worked most of the past 20 years to establish the pathway.
In addition to supporting beautification projects, such as the pathway, the Nouvella Club presents scholarships to local high school students, supports literacy programs, and engages in presenting programs of general interest to the members.
More than 30 women are currently members of the 46-year-old club, which meets once a month.
The club doesn't meet in the summer, but will host a style show and membership drive when it resumes meeting in September, according to Roach.