Tuesday, May 11, 2004
/lk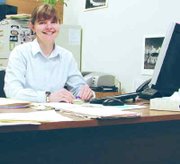 GRANDVIEW - Although Carol Bardwell has been a guidance counselor at Grandview High School for less than a year, she has been helping students overcome both personal and academic issues for eight years.
Bardwell, who previously worked as a counselor at Sunnyside High School, also spent time working as an English teacher at the school.
Bardwell, a Grandview High School graduate, said when it came time to earn her Master's degree she decided that counseling would be a good match for her work in the classroom. She added that after earning her Master's degree from Washington State University in the Tri-Cities she continued to teach for another three years. It wasn't until later that she pursued a job as a guidance counselor.
Bardwell said her current job includes everything from working with students on both academic and personal issues, as well as helping students plan for their life after high school. It's this close tie to the students that Bardwell enjoys, noting that her favorite part of the job is working with the students.
Bardwell said she is enjoying her time at Grandview High School, noting that with a student population roughly half the size of Sunnyside's there seems to be a close knit feel to the school.
"I really like the size of the student body," she said. Bardwell also noted that the staff and administration at the building have also been very welcoming.
Bardwell said when it comes to her position, she tries to keep an open door policy, which often times means pushing paperwork aside to help a student in need.
She said during the course of a regular day she will typically have several meetings scheduled with either parents or students, as well as time to work on things ranging from reports to credit evaluations.
When the bell rings signifying the end of the day for students, Bardwell said she is usually just getting started as far has committee meetings are concerned. She said she typically has a committee meeting of sorts after school, just about every day.
Bardwell lives in Grandview with her husband Craig and their children Chet and Brendan, who are in third and second grade, respectively.