Tuesday, March 30, 2004
/lk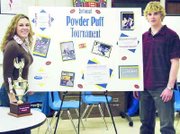 GRANDVIEW - When it comes to doing a partner project, one might automatically think that living under the same roof as your partner would make completing the project easier. But talking to brother and sister, Krista and Brandan Artz, two Grandview High School students, that might not always be the case.
Krista, a senior, and Brandon, a sophomore, pooled the family talent this year, opting to work together on their Learn and Earn Distributive Education Clubs of America (DECA) project. Krista said she had completed a Learn and Earn project the year before with a friend who graduated last year, and this year she was looking for a new partner.
Brandan said he had heard all about the project the year before, so when Krista approached him about being her partner, he knew the amount of work that would be required.
Krista explained the project the two took on included organizing the school's powder puff football game during fall homecoming, then writing a 30-page paper on the different things they had done to put the event together, as well as what they learned through the process.
The brother and sister duo recently competed at the state DECA competition with their project, earning fourth place honors in their category and a place at the national DECA competition, which will be held in Nashville, Tenn.
Krista said she thought living with her DECA project partner would make putting the project together easier, however she said there were a few hurdles that had to be overcome. She said working with a family member as a partner there wasn't the same pressure to get things done, as there is when you're working with a friend who is depending on you.
"With a brother or a sister you tend to slack a little bit," Krista said. "It was a lot more challenging than I thought, being partners with my brother. But in the end it brought us closer as friends."
However, before the two could become closer, they had to find time when they were both at home to work on their project. With both Krista and Brandan being involved in sports and other school activities, Krista said finding the time to sit down together and work on their project was a challenge they had to overcome.
Krista said originally they tried to split up the different parts of the 30-page project they had to write up, that way they wouldn't necessarily both have to be home to get work on the project completed.
"But we realized neither of us knew what the other was writing," Krista said.
Ultimately, the two had to make time to work together on the project.
Brandan said working on the written project with his sister, he learned the importance of staying on top of things, "because deadlines can really sneak up on you," he said.
Now that the two have completed their project and have secured a spot at the national DECA competition, they are back to finding time to work together.
"We are just perfecting our project," Krista said. Brandan said they are working to put the finishing touches on their project before they have to present it to judges at nationals.
Krista said she is looking forward to going to nationals this year, which will take place April 28 through May 4. The Artzs aren't the only students making the trip to Nashville this year. Other students who qualified for DECA nationals are Lindsley Grow, Teagan Johnston, Danelle Cowan, Ashley Lara, Jessica Castaneda and Sarah Trevino.