Monday, March 29, 2004
/lk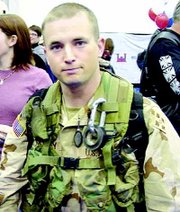 FORT LEWIS - Lonnie McNerney Jr.'s voice sounded tired as he described his long flight from Germany to Tacoma taken over the weekend.
The former Sunnyside service man's plane was delayed this past Friday night due to mechanical difficulties, causing his family some anxious moments.
McNerney was to have arrived at a western Washington military base this past Saturday morning, but a leaking gasket grounded the homeward troop's plane.
"I'm just glad to be back in the States," said Specialist McNerney, who like many American troops has spent the past year fighting terrorism in Iraq.
While anxious to begin his well-deserved leave from the military, the young man will have to wait two to three weeks before actually sleeping in his childhood bed. Leave will be delayed for a while to allow the soldiers to readjust to life in the States, according to his mother, Roxanne McNerney, who was on hand at Fort Lewis to welcome her son home.
"He's a lot thinner," she said via a telephone interview on Sunday morning. "He looks very tired," she added.
The 1999 Sunnyside High School graduate has been stationed for the past year in the Balad area, with the 4th Battalion, 555 "Triple Nickel" unit.
McNerney's unit has helped to rebuild the war-torn nation by installing electricity and defusing bombs left behind by Saddam Hussian's military troops.
According to his mother, her son works in communication on radios, computers and satellite systems.
McNerney said he is eagerly awaiting the Army's approval for him to come home to Sunnyside and his family.
He said morale was different for the solders stationed inland.
"The guys getting to go home are really happy," he said. "But the rest of the soldiers are just waiting their turn," he added.
He said the atmosphere is still very tense in most of Iraq. "There are a lot of people who are not happy we're there and they let us know that," he explained.
"There is still a lot of uncertainty," he added, but declined to say much more about his experiences of overseas' duties.
"We're not allowed to talk about a lot of what we are doing over there," he said.
McNerney said until his recent year long assignment in Iraq, he had thought he would be a "lifer" in the military.
"Now, I think I'll be looking for another way to get my "defend the people" fix," he said.
The weary soldier said he's heard rumors that his unit may be rotated back to Iraq later this year.
"I'll just have to wait and see," he said.
One thing is certain, McNerney said. "At the end of my enlistment I'll be giving up the military life. Maybe, I'll be a policeman," he said.