Wednesday, July 28, 2004
/lk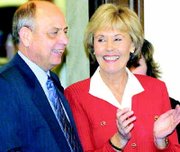 Fourth District United States Congressman Doc Hastings and Eighth District United States Congresswoman Jennifer Dunn were selected to lead the Republican response in Washington state to the opening day of the Democratic National Convention in Boston.
Dunn opened Tuesday afternoon's teleconference by disputing claims from Democrat presidential candidate John Kerry about how this week's Democratic National Convention would focus on him and not President Bush.
"We really have not seen a lot of discussion about Sen. Kerry and his background," said Dunn.
Dunn said she would like to see Democrats let the public know more about Kerry as opposed to "Bush bashing."
Dunn added that the message being delivered by Democrats at their national convention hasn't been an optimistic one, so far.
Dunn addressed some comments about health care and prescription benefits that Kerry made right before the convention. Dunn commented Kerry is using fear tactics in his campaign to scare voters, in particular senior citizens, about the Bush health care plan. Dunn said Bush's health care plan will work. She particulary cited the need for the new prescription benefit card that is now available.
"The fear campaign is not a good one for him to put out there," said Dunn.
Dunn also commented on how the President's tax relief efforts have benefited Washington residents. She said 2.3 million taxpayers in Washington are benefiting from the President's tax cut packages. She also pointed out 780,000 married couples in Washington are benefiting from the tax relief measures the President put into place. Unemployment in Washington has also dramatically dropped from 7.7 percent to 6.1 percent, she said.
Dunn said Bush has also made it a priority to increase funding for programs, such as education, which has seen a 49 percent increase in funding under the Bush administration. The budget for homeland security has tripled and funding for providing medical care for veterans has been increased by 40 percent. Dunn said during the forthcoming budget, Washington veterans will see a 6 percent increase in funding for health care in Washington state, alone.
Dunn said she would like to see the Kerry camp acknowledge some of the accomplishments of the President.
Hastings said he wants to see Democrats talk more about Kerry's record. Hastings pointed out Sen. Kerry has voted in the past to cut funding for the military, intelligence and to promote higher taxes. Hastings also highlighted some of the contradictions in the Kerry campaign, noting Kerry has said he fully supports funding the recommendations of the Sept. 11 commission.
"His track record has been to cut our intelligence spending," said Hastings.
Hastings said Bush needs to be acknowledged for his pro-growth stance that has helped boost the economy. Hastings said Bush's stance has helped promote the economy in Washington state, both from the agriculture and industrial stand points.
Hastings also commented on a remark from former President Bill Clinton on the opening night of the Democratic convention. Clinton, said Hastings, remarked Bush has squandered the budget surplus he left the Republican President.
Hastings, who was voted to office during Clinton's first term, said none of Clinton's budgets were balanced. Hastings said it was through a cooperative effort that Clinton was able to build a surplus. But, Hastings said, many people don't realize as Clinton was leaving office the economy was headed towards a recession.
"Were it not for the President's (Bush) tax relief, we might have been in a deeper recession," said Hastings.
Hastings said the President hasn't squandered the surplus, despite the Democrats claim. Hastings said the President spent the money on needed tax breaks for Americans. The money was also spent on improving national security at home and abroad after the unexpected attacks on Sept. 11, said Hastings.