Tuesday, January 20, 2004
/lk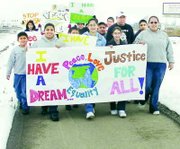 There were a lot of horns honking and hands waving Monday morning as motorists on Yakima Valley Highway showed their support to the approximately 40 people who took part in a march commemorating Martin Luther King Jr. Day.
The march started at SunnyView Park at roughly 10:30 a.m. and ended at Sunnyside High School, where other activities and presentations were waiting. The Martin Luther King Jr. Day events were organized by the local AmeriCorps organization, with the march being held specifically by members of the AmeriCorps Empowerment Team.
Carissa McNerney, a Sunnyside AmeriCorps volunteer, said the reason the organization decided to get involved with putting together activities for Martin Luther King Jr. Day is because of the similarities between King's message and the ideals AmeriCorps promotes.
"It's a lot of what AmeriCorps stands for," McNerney said.
Heather Lundquist, Opportunity Industrialization Center (OIC) of Washington AmeriCorps supervisor, said the event was something the group wanted to do for the citizens of the Lower Valley.
She explained there are similar types of celebrations that take place in observance of the civil rights leader's birthday in both Yakima and the Tri-Cities, however there is nothing locally for residents to take part in.
"We wanted to bring it down to the Lower Valley for them to participate in," Lundquist said.
This is the second year the Martin Luther King Jr. Day rally has taken place in Sunnyside, although it is the first year there has also been an organized march as part of the celebration.
McNerney estimated that more than 100 people took part in the activities at Sunnyside High School, which included presentations in the auditorium, as well as an art exhibition in the commons area.
Some of the presentations included a speech by Sunnyside Councilwoman Bengie Aguilar, a performance by the Sunnyside High School mariachi band and a skit by AmeriCorps members. Carlos Maya also took part in the presentations, performing several civil rights movement songs. A movie was also shown on the life of Martin Luther King Jr.
In the commons area various AmeriCorps members were working with local children on different craft projects. Each of the projects served as a way to make children stop and think about the meaning of freedom. The activities included a project where kids' traced their bodies, then colored it in with different colors. Another project had kids trace their hands, then write what freedom means to them in their traced fingers.
The activities took place at the high school until 2 p.m.
. Elena Olmstead can be contacted at (509) 837-4500, or e-mail her at eolmstead@eaglenewspapers.com