Friday, January 16, 2004
/lk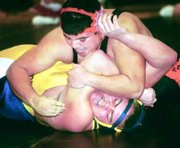 The Sunnyside High School wrestling team evened up its Mid-Valley League record at 2-2 last night with an overpowering showing against Wapato at home.
The Grizzlies won the league meet handily, taming the Wolves 58-17.
Sunnyside Coach George Paulus said his team wrestled well and with emotion once again last night. Paulus said the Wolves are struggling with numbers and injuries this season. Paulus said right now the Grizzly coaching staff is working on developing team bonding with the wrestlers, which is going well. He added that the Grizzlies were very supportive of one another last night.
There were no heroics for Sunnyside's Rudy Martinez last night as there were a couple of seasons ago against the Wolves. Martinez started the evening of mat action with a forfeit at 140 lbs.
Sunnyside's Ray Romero finally caught up to Wapato's Will Bodonie in their 145 lb. encounter, winning by fall in 5:17. Paulus said the Wapato wrestler came out and stayed close to the edge of the mat, stalling for much of the first two periods. Paulus said Romero finally got ahold of Bodonie to slow him down before taking the fall.
At 152 lbs., Sunnyside's Daniel Mendoza lost a 7-4 decision to Wapato's Eddie Garza. Mendoza was down 5-4 in the third round before giving up an escape and takedown in the third round to lose the match. Paulus said Mendoza didn't go about things at the end of the match in the right way.
Reece Paulus won by forfeit at 160 lbs. for Sunnyside.
Joe Evans absolutely massacred Wapato's Kit Cartwell at 171 lbs. Evans won by pin in 1:52, but, Paulus said, the Grizzly senior had six takedowns in 90 seconds.
"Joe just kind of ate him up," said Paulus.
Evans increased his school takedown record to 88.
Carlos Padilla-Garza fell behind early in his 189 lb. match against Wapato's Art Weaver enroute to losing 10-2. Paulus said Padilla-Garza was down 5-0 at the end of the first round and couldn't make-up any ground.
Sunnyside's Gabe Lara won in 1:31 at 215 lbs. over Wapato's Kyle Harrington.
Sunnyside heavyweight Pete Garza had a big win, pinning Kenny Pinyerd in 3:44.
At 103 lbs., Sunnyside's Jesus Alquicira pinned Mario Vela in 3:12.
Alex Valencia won a 9-0 decision over Wapato's Kyle Ames at 112 lbs. Paulus said he was pleased with Valencia, who wrestled against a tough Wapato competitor.
Michael Christensen made short work of Wapato's Robert Espinoza at 119 lbs., slapping on a nearside cradle for the pin in 47 seconds.
Wapato's Lewis Valladares won a 12-0 decision at 125 lbs. over Greg Burbidge.
Eric Garcia picked up a forfeit for the Grizzlies at 130 lbs.
The night ended up on a bright note for Sunnyside's Omar Magana, despite losing at 135 lbs. Paulus was extremely impressed with how Magana held his own against Wapato's top wrestler, Sammy Macias, who took third at 3A State last year. Magana lost by pin in 3:39, but Paulus said his wrestler showed a lot.
The Grizzlies head to Yakima on Tuesday to wrestle East Valley and Toppenish.
. Mike Kantman can be contacted at (509) 837-4500, or email him at mkantman@eaglenewspapers.com