Monday, January 12, 2004
/lk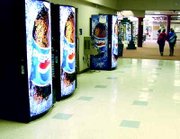 Area educators feel there is no need for a new bill which is being proposed in the 2004 Washington state legislative session.
State child nutrition advocates concerned that children are being exposed to too much junk food at school want school districts to work harder to limit the number of vending machines in hallways.
Based on a recent American Academy of Pediatrics report calling for the restriction of the sale of soft drinks to students, the Washington State Children's Alliance plans to present a bill before the state lawmakers to limit junk food sales in schools.
The bill is expected to be introduced this session, which began today (Jan. 12), according to Shelley Curtis, a food policy manager for the Children's Alliance.
Last year, the Alliance and several other children's advocacy groups supported a failed bill to place nutritional content standards on foods sold or served in elementary and middle schools.
"Schools need to model and reinforce healthy eating and physical activity behaviors," she said.
But according to Lower Valley school district administrators, the availability of the mix of soft drinks and dairy product vending machines in the schools allows students to have options.
Sunnyside School District Superintendent Dr. Rick Cole and Mabton School District Superintendent Kevin Chase said students have the option to purchase milk or soft drinks at their schools.
"In fact, we are finding that the milk and juice vending machines have been well received by the students," said Cole. He said Sunnyside School District's milk vending machines are located next to the high school and middle school cafeterias. In addition, all meals at the schools offer milk as part of the district's nutrition programs.
"We also have soft drinks and bottled water vending machines in our high school and middle schools," he said.
"We are sensitive to the need to offer our students healthy options," he said.
But nutritional experts don't think that is good enough. According to a Washington State Department of Health report, one in five Washington adolescents in grades nine through 12 were found to be either overweight or obese, a situation health experts attribute to the over-consumption of sugar laden soft drinks.
The American Academy of Pediatrics in a recent "Soft Drinks in Schools" report, said that sweetened drinks constitute the primary source of added sugar in the daily diet of American children. The report claims that each 12-ounce serving of carbonated, sweetened soft drink contains the equivalent of 10 teaspoons of sugar and, according to the AAP report, between 56 and 85 percent of school-age children consume at least one soft drink daily.
The AAP is recommending the restriction of the sale of soft drinks in schools as a step toward safeguarding the health of all students. While no one is saying schools should get rid of the vending machines, advocates like Dr. Amy Belko of Olympia just wants healthy food put into the vending machines.
"Washington's a great dairy state," she said. "Promote our own cows, have chocolate milk, have regular milk, have yogurt and have fruit drinks and support apple growers of Washington," she urges.
"We are already doing that" said Mabton School Superintendent Chase, whose school district also offers both milk and soft drink vending machines in Mabton's combination middle and high school facility.
"Our snack vending machines also have healthy treats in them," he said.
Chase wonders why the nutrition advocates want to place another burden on educators ."We already have our hands full trying to teach children academics. Shouldn't part of the effort for nutritional education be placed back on parents?
"We don't need more curriculum to teach," he said.
"Why not leave nutrition to the children's family to deal with," he said.
"We're already providing nutritious hot breakfasts and lunches to our students. We really don't need another issue on our plates," he said.
. Julia Hart can be contacted at
(509) 837-4500, or you can e-mail her at jhart@eaglenewspapers.com