Wednesday, December 22, 2004
/lk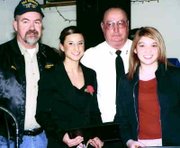 Taking as their theme, "Celebrating Our Veterans' Services," two Lower Valley high school students have written award winning speeches, earning recognition from SunnyView VFW Post #3482.
Sunnyside High School student Andrea Phillips and Grandview High School student Ashley Lara tied for first place honors in the 2004 VFW Voice of Democracy speech writing contest, hosted locally by SunnyView Post #3482.
This past Friday night, Lara and Phillips were each given an opportunity to read their five-minute speeches to those attending an awards ceremony held in their honor.
Phillips suggested most people view holidays such as Veteran's Day as merely a day off from work. "They don't have a true understanding of the meaning of (the veteran's) sacrifices," Phillips said.
"...they can not feel the soldier's pain when no recognition is offered to him on this sacred holiday," she added.
Lara drew upon personal experiences to demonstrate her understanding of the veterans' service to freedom. "My parents began to teach me that the freedom I enjoy today came at a very high price," she said.
"At an early age, they taught me that because of our nation's veterans, all Americans experience and enjoy the freedom I enjoy today."
Phillips and Lara each received a check for $125, as well as a certificate from the veterans and a small gift from the VFW Ladies Auxiliary.
In addition to the speech writers, also honored were participants in the Auxiliary's Patriot's Pen essay contest. Collecting first place honors was Katie Herndon of Sunnyside with second place honors going to Phillip Hiemstra of Zillah. Jennifer Crane of Sunnyside was named as third place award winner in the patriotic writing contest.
The Patriot's Pen winners received checks of $75, $50 and $25, respectively.
.