Friday, December 3, 2004
/lk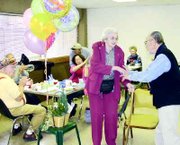 With her 90th birthday less than a week away, Margaret McLean is finally retiring from her favorite job - collecting newspapers and aluminum cans for the Pearl Hughes Orthopedic Guild.
For most of the last 20 years McLean has been a familiar presence at local business establishments, gathering discarded papers and the occasional loose pop can. All of her efforts have been taken to local recycling centers. The proceeds have been turned over to the Children's Medical Center of Seattle, where children receive medical treatment at no cost to their parents.
Through McLean's efforts, thousands of dollars are donated to the medical center each year from the Sunnyside guild. In fact, thanks in large part to McLean's recycling efforts, the Guild received the Seattle medical center's coveted Chairman's Award in 2003.
McLean has collected tons of newspapers and aluminum for recycling since the mid-1980s. Until recently, when illness forced her to slow down, she made daily rounds for her favorite charity.
But McLean is finally parking her recycling automobile, said her niece, Margaret Gibson of Hayden, Idaho.
"We live more than three hours away and can't get over here quickly enough when Aunt Margaret needs us," she explained.
To bring McLean closer to her family, she will be moving to Couer d'Alene into Four Seasons Assisted Living Center, Gibson said.
This past Thursday, McLean, an avid bridge player, was feted by the members of the Sunnyside Bridge Club, where she has been a member for "...more years than I can remember," she said. Her fellow bridge players have been among her strongest supporters, saving their papers for the guild.
"I hate to quit," she said.
But McLean has been assured that a special account has been set up at Dave's Recycling Center in Grandview, where people can continue to donate their recyclable waste to the Pearl Hughes Guild.
"That makes me feel a little better," she noted.
Originally from Idaho, McLean has lived in Sunnyside since the mid-1940s, when she and her husband, Lloyd, farmed for many years north of town. Her recycling efforts began soon after his death in the late 1970s.
People who want to keep in touch with McLean can write her care of her niece at 21873 N. Rimrock Rd., Hayden, Idaho, 83835.
"I know Aunt Margaret will appreciate all of your "I'm thinking of you" cards from time to time," Gibson said.