Thursday, August 26, 2004
/lk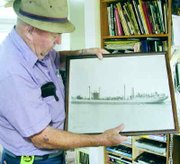 He was just a boy, when like thousands of other young men, he felt the call to serve his country.
And like many of them, all these years later World War II veteran Bud Swigart can still tell the story of his days spent in the South Pacific, where his job as a Navy "swabbie" was to work on deck of the USS Kanawhas.
Swigart, who was born and raised in Sunnyside, joined the Navy five days past his 17th birthday, the day after Japanese fighter planes bombed Pearl Harbor, hurling the United States into a war with Japan in the Pacific Ocean.
After signing up for the Navy in Seattle, the young man found himself racing through boot camp and assigned to the USS Kanawhas, which was headed for the South Pacific as support for the battleships and carriers. His job was to work on the tanker, which was used to refuel other U.S. ships at sea during the war.
The USS Kanawhas was at the battle of Tulagi Harbor, just off Guadacanal Island in the Solomons, when enemy planes dive bombed the tanker. The Japanese pilots took several tries at the ship before bombs created enough damage to sink it on April 7, 1943, Swigart said.
Swigart was one of five men who were below decks when Japanese planes attacked the 476-foot vessel. "I remember thinking, I better get above decks quick," he said.
It wasn't long before the young sailor found himself in the flame-covered waters surrounding the ship as it slipped downward, burning into the harbor. For several days after the battle, the young Sunnyside sailor was listed among the missing in action as the Navy regrouped from the attack.
"I was picked up about eight miles from the battle by a submarine," he said.
His future brother-in-law, Sammy Bradford, who was later a awarded a Purple Heart, was also aboard the Kanawhas on that fateful day.
"Sammy was in the pump room and I was on the other side of the ship," Swigart explained.
"He (Bradford) was trapped below deck for hours before he was rescued," Swigart said.
"The water was up to his neck when he was finally pulled from the ship," he added.
Commissioned in 1915, the USS Kanawhas was one of the Navy's first oil tankers, charged with the dangerous job of refueling other ships stationed on the South Pacific battle lines during World War II.
"Before we were hit, we had one of the largest loads of fuel we had carried for several months," Swigart said.
Swigart and Bradford, who also lives in Sunnyside, were among the survivors of that dreadful incident. The bomb blasts and subsequent oil fires killed 19 of their fellow crew members.
Swigart was sent to a military hospital ship for a time before he was reassigned to serve aboard the USS YO164, another oil tanker.
He served on the YO until 1944, when he was assigned to serve aboard a brand new destroyer, the Harry F. Bauer, which sailed from Norfolk, Va. later that same year.
Swigart said like many young sailors he suffered what he called war nerves, causing him to spend some time in a navy hospital in Charleston.
"I had a lot of trouble with my stomach," he explained.
The war finally ended, and in February 1945 Swigart finally found himself honorably discharged from the Navy.
During the years following those terrifying war years, Swigart returned to Sunnyside, where he soon found himself working as a part-time Sunnyside police officer.
"I later became a full-time officer," he said.
"Police work was pretty calm around Sunnyside in those days," he smiled.
But law enforcement didn't hold his attention. Looking for something more challenging, he went to work in construction. He soon found himself doing high-rise work on a number of Bonneville Power Administration hydroelectric power dams on the Columbia and Snake rivers.
He worked on John Day Dam and Monument Dam, before deciding that all the travel was keeping him too far away from his growing family.
He and his wife Guila, his buddy Sammy's sister, married shortly after the war, and together raised seven children, all of whom attended Sunnyside schools.
In the late 1960's, Swigart went back to work for the city of Sunnyside, this time in the public works department. In 1982, he finally retired from the public works department as its director.
These days he and Guila are taking it easy, enjoying visits from their children and grandchildren Occasionally, Swigart can be encouraged to retell the stories of his adventures in the South Pacific for a willing audience. As a member of the survivors of the USS Kanawhas, Swigart has attended a number of ship reunions, but sadly, he'll miss the 61st reunion of his former shipmates, which is being held this year in Sacramento, Calif.
"I kinda wish our (his and Guila's) health was better. I'd sure like to see some of those guys again," he said.