Tuesday, August 24, 2004
/lk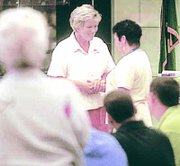 MABTON - Tamara Steen, an English teacher at Mabton Jr./Sr. High School, has been selected as Educational Service District 105's regional teacher of the year.
Jane Gutting, ESD 105 Superintendent, made the suprise announcement at the Mabton School District's staff meeting Monday morning.
Steen has 22 years of teaching experience, 21 of them at Mabton Jr./Sr. High School. She teaches all levels of students-from remedial reading to advanced placement English, a program she helped establish for the Mabton School District. This year she will take on the role of literacy coach for the district.
As a teacher and neighbor to many Mabton students and their families, Steen is well aware of the challenges facing those in her school district and community.
"Teaching children of poverty is my life's work, an avocation and not a vocation," Steen said. "A passion and not a job.
"I have made connecting with my students a primary focus at work. Until they (students) feel someone cares, it is hard for them to concentrate on academics, or even see the reason why they should. I try to get to know every student, letting each know that he or she is valued," Steen said.
Hosting "coffee house" poetry readings, developing new programs to engage students in a higher level of learning and connecting with students and their families at school and other social activities are some ways Steen works to get to know her students, and encourage their success.
This year's ESD 105 regional teacher of the year selection committee cited Steen's effectiveness as a teacher and her community involvement. Committee members also noted her ability to inspire other teachers and her ability to adapt to educational progress.
"I was overwhelmed by Tamara's determination to meet adversity and speak to it in such a challenging and encouraging way," said Bill Merriman, a retired businessman and member of the ESD 105 teacher of the year selection committee.
"She is really determined to make a difference in the lives of her students," Merriman said.
Steen's name, along with eight other regional teachers of the year from throughout the state, will be forwarded to the Office of the Superintendent of Public Instruction, which will then select a state teacher of the year. The nine regional teachers of the year will be honored at a celebration at the Museum of Flight in Seattle on Oct. 28.