Tuesday, August 17, 2004
/lk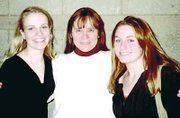 For the first time since 1977, Joyce Stark won't be returning to her Sunnyside School District classroom when school starts up for the new year next week.
Instead, the award-winning high school science teacher will be on her way to Washington D.C., where she will spend the next school year involved in marine biology research and policy making as an Albert Einstein Distinguished Educator Fellow.
Known for her devotion to the Sunnyside School District's science fair program, Stark will be taking a nine-month sabbatical from her Sunnyside High School teaching position to participate in the National Oceanic and Atmospheric Administration's (NOAA) Emerging Young Scientists and Teacher at Sea programs, according to Dr. Rick Cole, superintendent of Sunnyside School District.
Stark, who in 2002 was awarded the Presidential Distinguished Educator Award, was one of only 11 teachers nationwide to be awarded the prestigious Albert Einstein fellowship after an intensive national screening process, Cole said.
"She will be collaborating with personnel of other federal agencies and in Congressional offices, while living in Washington, D.C. during the coming year," Cole said.
Stark said she will be living in Silver Springs, just outside the nation's capital, while working at the U.S. Department of Commerce Building.
As an Albert Einstein Fellow, Stark will be providing practical insights and real world perspectives to policy makers and program managers developing or managing education programs, she explained.
Saying she is excited to be given the opportunity to participate in the program, Stark explained that she was chosen after going through three interviews. "I made the cut from 27 educators to be interviewed by members of the National Science Foundation and the NOAA," she said.
Stark will begin her nine- month fellowship just after Labor Day.
Stark said the fellowship will provide her with a $5,550 monthly stipend, plus moving expenses and a professional travel allowance.
Her husband, Dick, a college biology professor at Columbia Basin College, will be joining her in Washington D.C., where he expects to be working during the coming school year.
"It's quite an honor to be chosen for the fellowship," Stark said. "I'm looking forward to doing research and working with the NOAA officials on public policy," she added.
The fellowship program was enacted by Congress and is funded by the Department of Energy Office of Science with participation from federal agencies, including the National Science Foundation, the NOAA and the National Aeronautics and Space Administration.
Stark heard about the fellowship last November during a trip to the nation's capital, where she learned that as a Presidential Educator Award winner she was eligible to apply for the fellowship program.
To be considered, Stark had to show evidence of her excellence in teaching science, demonstrate her inquiry-based and innovative teaching style, her sustained professional growth, as well as her outstanding leadership ability.
Stark has long been active in developing and sustaining local science programs, organizing and hosting both local and regional science fairs for school-age students. She is the current chair of the Mid-Columbia Regional Science and Engineering Science Fair. In addition, she has been recognized on numerous occasions for her involvement with the development and expansion of the Washington State Science and Engineering Fair awards program.
Under her guidance, Stark's science fair students have repeatedly been selected for regional and state science championships, earning them all expense-paid trips to the prestigious International Science and Engineering Fair since 1982.
Stark can point with pride to many SHS science champions who passed through her classes, who have gone on to be involved in science and engineering-related careers as a result of their science fair experiences.
"In fact, my very first international science fair champion, Teri Alvarez-Ziegler, will begin teaching her own science students this fall at Sunnyside's PRIDE High School," she said.
Despite her physical absence from the Sunnyside School District science fair program during the coming year, Stark still plans to be involved. She expects to be helping with the designing and editing of the SHS science students' 2005 science fair projects.
"I'm still the co-chair of the Mid-Columbia Regional Science and Engineering Fair. So I expect to be in close contact with my co-chair, Laurie Gilmer-Dillman of Grandview Middle School," she said.
In addition to giving Sunnyside High School science fair participants access to her vast scientific knowledge, Stark expects to be giving her replacement, Ryan Campanella of Richland, a helping hand as needed.
Stark said Campanella, a graduate of Central Washington University, is excited to be taking part in the high school science fair, in addition to his high school science classes.
"He'll be working with fellow science teacher Robin Bryson, who will be heading up the local science fair program," Stark explained.
She said Harrison Middle School science teacher John Hayes will also be helping to coordinate the annual exhibition of Sunnyside School District science projects.
"The local science fair will go on, and I'll still be active in it," she said.
Excited to be living near Chesapeake Bay during the coming months, Stark said she also hopes to be allowed to do some experiments aboard the NOAA's research ships, which are docked near Silver Springs.
"I have several experiments I conducted while working on the Alantis that I want to continue," she said.
"This is going to be one exciting year," she said.