Friday, August 13, 2004
/lk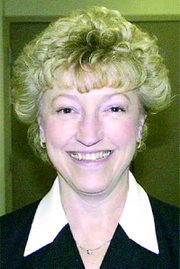 A 17-year career in education in the Sunnyside School District came to an end at the beginning of August.
Jan Schuette, who was the former assistant principal/vocational director at Sunnyside High School, was hired Aug. 2 as the new principal of Stanwood High School in the Camano Island School District.
"I am absolutely thrilled to death," said Schuette of her new job.
Schuette recounted with a laugh how she accepted the job on Monday and was in Stanwood by Friday.
Stanwood High School serves some 1,600 students freshman through seniors.
It is somewhat larger than Sunnyside," said Schuette.
Schuette said the design of the high school is a bit different than it is here in Sunnyside. The ninth grade class is in a different complex than the rest of the school.
Schuette has an estimated staff of about 130, including 85 certificated personnel.
Schuette has been working in education in the Valley for a total of 19 years. She spent 17 years in the Sunnyside School, 13 as an administrator, and another two in the Yakima School District.
"It was a wonderful opportunity," said Schuette. "I have always wanted my own building for years. Stanwood is an excellent school. They have a very strong staff and a lot of community support."
Schuette saw the opportunity for a change after her daughter, Ashley, graduated this past year.
Schuette is excited about being involved with some new changes going on. She explained the district completed a facilities study and is looking at what to do with such district buildings as the high school, which was built in 1972. Schuette said the district is also focusing heavily on the changes in educational requirements and looking at addressing the dropout rate for students.
"This is exciting," said Schuette. "I am not coming in during the middle of something."
Schuette found out about the job when Gary Vegar accepted the job of executive director of instruction and learning in Sunnyside. Vegar was the former principal at Stanwood.
Schuette has family ties to the Stanwood area. Her sister, Linda Burns, is superintendent of the Arlington School District. Stanwood and Arlington are big football rivals. Schuette said when she went and met the football players a couple of days ago she told them about how important it is to win the rivalry game this year.
"That is going to be fun," said Schuette.
Sunnyside High School Principal Dennis Birr said he is sad to see Schuette go, but didn't want to hold her back from a promising opportunity.
"She is going to be a real loss to us," said Birr. "She has been an instrumental part of the high school."
Birr said Schuette was key in developing the outstanding vocational program Sunnyside has, one of the tops in Eastern Washington.
"I am going to miss her a great deal," said Birr. "We didn't want to stand in her way. She deserves that opportunity."
Due to the fact Schuette had to give a short notice of resignation, the high school will be doing some administrative functions differently for this year. Holly Ohler will be let out of a couple of her class periods to assume the duties of vocational director. Ohler completed a vocational director internship under Schuette last year. The administrative staff at the high school will be assuming a majority of Schuette's duties, said Birr. However, Birr plans to utilize administrative intern Ryan Maxwell to assist with the workload.
Schuette said she regrets leaving so late in the school year to accept the Stanwood job, but is eagerly looking to come back to Sunnyside to visit in the next few weeks.
"I have a lot of ties," said Schuette. "You can't leave some place after working for so long without saying goodbye. I didn't get to say goodbye."