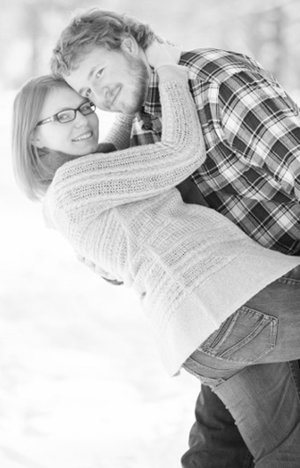 Tucker and Altmaier
Katie Altmaier and Benjamin Tucker will pledge their lives to one another this coming Saturday, March 22. The couple plans to marry at the Coeur d' Alene Wedding Chapel in Coeur d' Alene, Idaho. The bride-elect is the daughter of Joel and Sherrie Altmaier of Newman Lake. She is a 2007 graduate of East Valley High School in Spokane, graduated in the top 5 percent of the Eastern Washington University class of 2012 and teaches students in Deer Park. The son of Sunnyside's Mark and Karen Tucker, the groom-to-be graduated from Sunnyside Christian High School in 2008. He earned a Bachelor's degree at Eastern Washington University in 2012 and is in the university's graduate program, earning a Doctorate's degree in physical therapy. He is set to graduate from the program in 2015.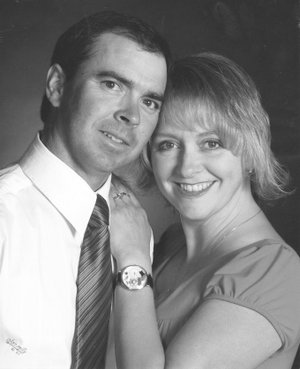 Kollmar
Kyle and Teresa Kollmar of Grandview celebrated 25 years of marriage during a family gathering and potluck social held this past Saturday. The couple was married on Feb. 11, 1989 at Sunnyside United Methodist Church. The couple has lived in the Sunnyside-Grandview area all their lives. They have three children, Koty, Kory and Kaysie. Mr. Kollmar works for the family business, Kollmar, Inc. as a sheet metal worker. Mrs. Kollmar is a para-professional in the Grandview School District.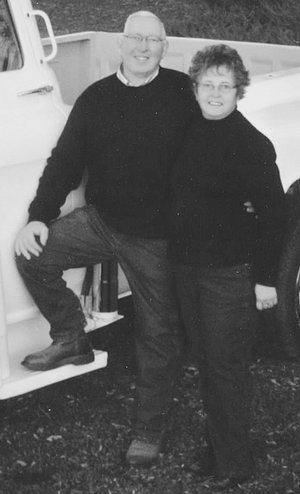 Wheeler and Wheeler
Larry and Phyllis Wheeler of Sunnyside marked 50 years of marriage on Valentine's Day, the anniversary of their wedding. The couple was married in the Sunnyside Church of Christ on Feb. 14, 1964. He is a farmer. She is a retired beautician and the former owner of Neva's Beauty Salon. The lifetime Sunnyside residents have three children, Sheryl and Mike Duim of Zillah; Pam and Bryan Everett of Plymouth, MN.; and Todd and Marsela Wheeler of Sunnyside. They also have eight grandchildren, Makaela, Connor, Morgan and Carson Duim; Caleb and Rylee Everett; and Keegan and Kailee Wheeler.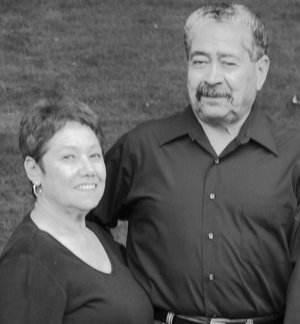 Alvarez
Oscar R. and Trina Alvarez of Sunnyside are celebrating their 50th wedding anniversary. The couple was married on Feb. 9, 1964 at Sacred Heart Catholic Church in Crystal City, Texas. He is the son of Rogelio and Benita Alvarez, and she is the daughter of David and Trinidad Luna. The Alvarez's will celebrate their anniversary with a private family dinner, along with daughters Teri Alvarez-Ziegler and Laura Alvarez, granddaughter Marlee Ziegler, spouses, and extended family.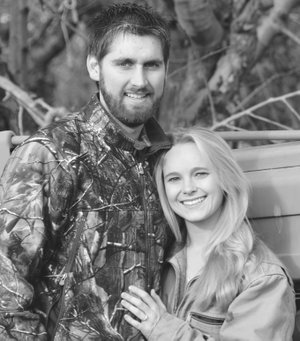 Eddie and Bosma
Steve and Julie Bosma, along with Angie Bosma of Sunnyside, have announced the engagement of their daughter, Leah, to Matt Eddie. The couple are graduates of Sunnyside Christian High School. The groom-to-be is the grandson of Jim Eddie of Grandview. He is a partner at Grandview's Eddie Farms. The bride-elect is a field representative for Apple King. The wedding ceremony is planned for March 8, 2014 at Sunnyside Christian Reformed Church.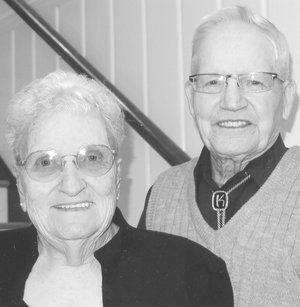 Culver
Kenneth and Wanda Culver were married at a Granger gas station 70 years ago today. It wasn't the emergency situation that the couple led Clay Bell, the Granger businessman and justice of the peace who married them, to believe. According to their son and only child, Stephen Culver, Wanda was underage. "Grandma liked my dad and told them they could get married if they thought they could," he said. "She probably didn't expect them to make it happen quite like that." The couple changed the date of Wanda's birth and told Bell that Kenneth was leaving to be in the military the next day, even though he was rejected for military service. Bell married the couple for 35 cents on Jan. 8, 1944. "He told them if it didn't work out they could get their 35 cents back," said their son. "All the relatives get a kick out of the story." The couple, who have three grandchildren and six great-grandchildren, will be celebrating the milestone with a private family dinner. "It worked out for 70 years," said Stephen Culver. "It was a good use of 35 cents."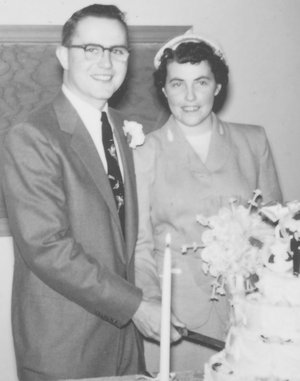 Lochner
Theron and Ella Mae Lochner of Sunnyside will celebrate 60 years of marriage on Friday, Dec. 6. Their anniversary and birthdays will be commemorated with a family party next July. The Lochners were married on Dec. 6, 1953 at the First Baptist Church in Sunnyside. They have four children; Teresa of Pasco, Kenneth and Jim of Olympia and Sandra McDowell of Naches. The Lochners also have nine grandchildren and three great-granddaughters.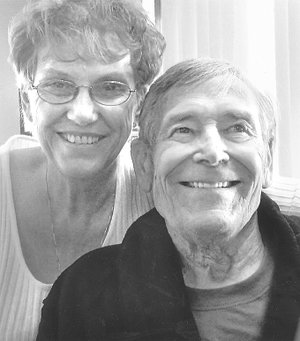 Becker
Ed and Elner Becker of Sunnyside were given a surprise party by family and friends last week in honor of their 50th wedding anniversary. The couple was wed on Oct. 25, 1963 at the First Baptist Church in Sunnyside. The Beckers have two daughters living in Fayetteville, N.C., Kim Hudgens and Kelly Ludwigsen. Mr. Becker also has a son, Ed Becker of Lewiston, Idaho. The Beckers have lived in Sunnyside a total of 49 years. Mr. Becker retired from the Ford Motor Company and Mrs. Becker recently retired from Banner Bank. The couple has seven grandchildren and eight great-grandchildren.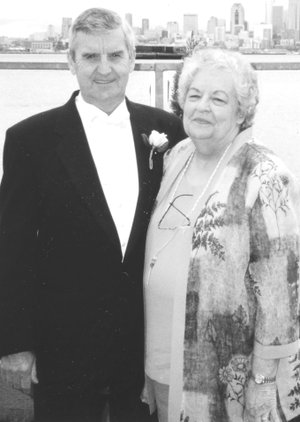 McGhan
Clifford "Cliff" and Marjorie "Marge" (Mitchell) McGhan of Grandview will celebrate 60 years of marriage tomorrow (Thursday). The couple was married on Oct. 24, 1953 in Grandview. The McGhans are high school sweethearts and married soon after graduating from Grandview High School. Mr. McGhan went to work at Boeing in Renton and Seattle for two years. The couple lived in Puyallup during that time. In 1955, the couple returned to Grandview, centering their lives around raising their five children – Teresa, Linda, Laurie, Kelli and Mike. The McGhans led Bluebird and Camp Fire groups, and attended many school activities and sporting events in which their children were participants. They also served as chaperones for school dances and field trips. Mr. McGhan worked for Prosser Packers and Twin City Foods for 43 years. He retired in 1999 as division manager. Mrs. McGhan was a stay-at-home mother and homemaker. She worked occasionally for Libby's, the Grandview Herald and Old National Bank. The couple for many years enjoyed annual vacations to their favorite location, Cannon Beach, Ore. After the children were grown, the McGhans traveled to Ireland, Scotland, Wales, England and the Netherlands. The couple is now enjoying their "aging" children, their children's spouses, 12 grandchildren – some with spouses – and 15 great-grandchildren. The couple plans to celebrate their anniversary quietly at home, counting their many blessings.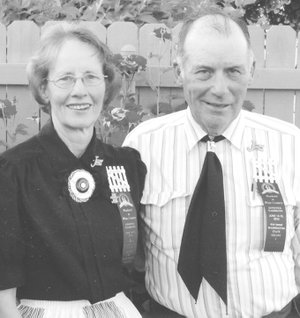 Maas
Stan and Anita (Huetson) Maas of Grandview will be celebrating their 50th wedding anniversary this coming Friday. The couple was married in Sunnyside on Oct. 25, 1963. Mr. and Mrs. Maas grew up in Sunnyside and graduated from Sunnyside High School. They have lived in Grandview for 44 years. Together they raised six children, including Dean (Jill) Maas of Marysville, Kevin (Meg) Maas of Kennewick and Greg (Crystal) Maas of Moxee. The couple has six grandchildren, Jason, Nicole, Katie, Nick, Chase and Alaina Maas. Mr. Maas continues to farm, having grown grapes for 44 years.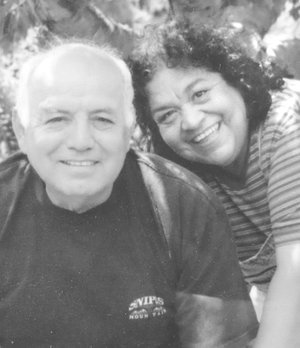 Partida
OUTLOOK – Fidel and Mary Partida will be celebrating their 50th wedding anniversary on Sunday, Oct. 20, at the home of their daughter. The couple was married on Oct. 10, 1963 at St. Joseph Catholic Church in Sunnyside. Mr. Partida is retired after working at Twin City Foods in Prosser. Mrs. Partida is still employed at Seneca (formerly Independent Foods). The couple has eight children: Anita Partida-Garza of Sunnyside, Fidel Partida Jr. of Sunnyside, Roel Partida of Texas, Daniel Partida of Sunnyside, Ida Partida-Zamarron of Bellevue, Raul Partida of Sunnyside, Michael Partida of Seattle and Dolores Partida of Sunnyside. They also have 26 grandchildren and 11 great-grandchildren.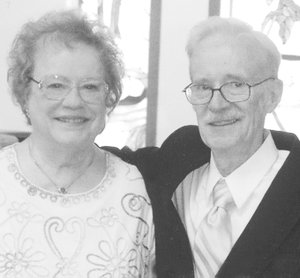 Skinner
Married on Oct. 12, 1963 in Santa Barbara, Calif., Dr. Glenn and Barbara Skinner of Sunnyside celebrated 50 years of marriage this past summer during a small family reunion. Their three children planned their family vacations so they could host the celebration for their parents' golden anniversary. Dr. Skinner has been a family physician for 36 years, practicing medicine in California, Arizona, Illinois and in Washington twice during his career. Mrs. Skinner was a stay-at-home mom throughout most of their marriage, and later worked as his office manager for 16 years of his medical career. She was also the Our Saviour's Evangelical Lutheran Church secretary for 16 years. She has been the Lower Valley Community Concert Association headquarters director and director of operations for 20 years. The couple has been community concert members for 50 years, wherever they have lived. They also enjoy traveling. In addition to their three children, Sam, Catherine and Bob, the couple has five grandsons, Christopher, Alexander, Zackary, Andrew and Nathan Skinner, and two granddaughters, Erika Suzanne and Aspen Gordon.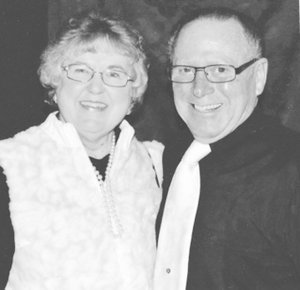 Cole
Former Sunnysiders Larry and Kay Cole, now of Usk, will celebrate their 50th wedding anniversary with family and friends Saturday, Oct. 5, at the home of their friends, Jim and Carol Case, 2900 Jones Rd., Wapato, from 2 to 7 p.m. The Coles were married Nov. 30, 1963 in Wenatchee, and later moved to Sunnyside. He co-owned and operated Sunnyside's Larry and Bob's Tire Town with Bob Bartley for many years. The Coles are now retired. They have two children, Kurt and Heidi Cole of Elk and Craig and Teresa Cole of Pullman. They also have six grandchildren and two great-grandchildren.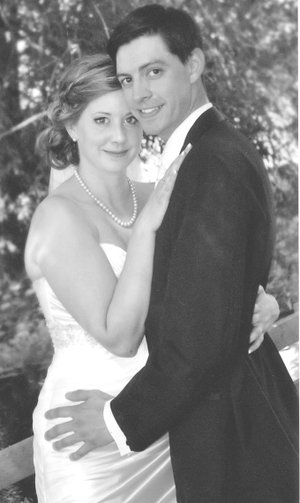 Spurlock
Tanya Bos on July 20, 2013 was united in marriage to Jay Spurlock III at Spring Creek Homestead in Union Gap. The bride is a Sunnyside High School graduate and earned a Bachelor's degree at Central Washington University. She is currently employed by the Sunnyside School District. She is the daughter of Tom and Mary Bos of Sunnyside. The groom is a graduate of Zillah High School. He enlisted in the U.S. Navy and now works for Bleyhl's. Jay and Linda Spurlock of Zillah are the groom's parents. Serving as matron of honor for the July nuptials was Danelle Gluth. The bride's attendants included Marisol Bos, Jennifer Brown and Sarah Sharpe. Leah Samaniego and Tommy Samaniego had the honor of serving as flower girl and ringbearer. Groomsmen for the ceremony included Jacob Wesselius, Kyle Tilley, Nate Carlile and Patrick O'Donnell. A reception in honor of the couple took place at Spring Creek Homestead following the wedding ceremony. The couple honeymooned at Orcas Island.